YABATECH expels 6 final year students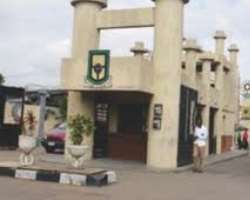 The Economic and Financial Crimes Commission (EFCC) told Justice Baba Yusuf of a Federal Capital Territory High Court in Maitama, Abuja, on Wednesday that the immediate past National Security Adviser, Col. Sambo Dasuki (retd), refused to be brought to court for his trial.
The EFCC is prosecuting Dasuki and his co-accused âˆ' a former Director of Finance and Administration in the NSA office, Shuaibu Salisu‎ and a former General Manager, Nigerian National Petroleum Corporation, Aminu Babakusa âˆ' on 19 counts of diversion of‎ N32bn meant for arms procurement.
Two companies - Acacia Holdings Limited and Reliance Referral Hospital Limited - belonging to Babakusa are also being accused.
Justice Yusuf had on February 8 fixed Wednesday for trial to begin after dismissing the application by Dasuki, seeking an order prohibiting the EFCC from further prosecuting him on account of his continued detention.
However, on Wednesday, Dasuki, who ‎had remained in the custody of the Department of State Services since December 29, 2015, was not produced in court.
His two lead counsel, Messrs Joseph Daudu (SAN) and Ahmed Raji (SAN), were also absent from court.
But lead prosecuting counsel, Mr. Rotimi Jacobs, informed the judge that Dasuki refused to be brought to court because the senior lawyers defending him would not be present in court on Wednesday.
'The first defendant said he would not be in court unless he is abducted because his lead counsel, J.B Daudu and Ahmed Raji, were not going to be in court,' Jacobs said.
Jacobs said Daudu had informed him of an application for stay of the proceedings of the trial which was filed before the Court of Appeal on behalf of the former NSA.
He maintained that the law never stopped an accused person in detention from facing trial.
He also alleged that Dasuki's lawyers had deliberately refused to visit their client in the DSS' custody so that they could continue to use the excuse of lack of access to hom (Dasuki) as an excuse to frustrate the case.
Jacobs said, 'When a defendant is in custody, the counsel should be allowed access to the defendant.
'I asked the DSS whether the lawyers ever made attempt to see him, they said they never did. It is a deliberate plant to frustrate the trial.'
Counsel who represented Dasuki in court on Wednesday, Mr. Wale Balogun, however debunked the allegation that his client refused to be brought to court.
He said, 'Concerning the allegation, the defence lawyer is not aware of it. The defendant is not in court. He has not been produced. It is the requirment of the law that he should be here. The proecution has not applied for the accused to be excused form court.
'The DSS official should have deposed to an affidavit‎ to that effect.'
The other defence lawyers, including Mr. Solomon Umoh (SAN), said the matter could not proceed due to Dasuki's absence.
Justice Yusuf adjourned the case till April 6.
Another ‎judge of the FCT High Court in Maitama, Abuja, Justice Peter Affen, before whom, Dasuki and others are being prosecuted for alleged diversion of N19bn arms fund had fixed ‎April 20 and 22 for trial.
Justice Affend had fixed the date for trial after dismissing another application by Dasuki to stop his trial on account of his continued detention.
Dasuki's co-accused with respect to the case includes a former Director of Finance and Administration in the Office of the NSA, Shuaibu Salisu, and a former Minister of State for Finance, Bashir Yuguda.
The other co-accused are, a former Governor of Sokoto State, Attahiru Bafarawa, the ex-governor's son, Sagir Attahiru, and a firm, Dalhatu Investment.
Meanwhile Justice Adeniyi Ademola of the Federal High Court in Abuja had also fixed April 4 for ruling on similar application filed by Dasuki to stop his trial on four counts of money laundering and illegal possession of firearms. Punch