Enugu govt denies alleged concentration of projects in Enugu North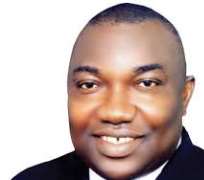 The Enugu State Commissioner for Works, Mr Patrick Ikpenwa, has debunked insinuations that the state government is concentrating development projects in Enugu North senatorial zone.
Ikpenwa told the News Agency of Nigeria (NAN) in Enugu on Tuesday that such propaganda was a disservice to the state government.
He said that projects being executed by the current administration had even spread across the state.
Ikpenwa cited the completed Nawfia Street as well as the ongoing construction of Iyaba Bridge in Enugu East as part of the projects outside Enugu North.
"We have said it all. It is normal for people to talk because they are not part of the system, but when you ask questions you will be properly educated.
"Granted that we have a good number of roads we have started from the Enugu North Senatorial Zone, but we equally have the 9th Mile Corner and Nike Lake roads.
"We have the Orie Emene-Adoration Ground and the Nawfia Rroad. These projects are not in Enugu North," he said.
Ikpenwa said that the state governor had made it clear that he wanted the presence of his administration felt in every local government area.
"That is why he has mapped out N100 million to be spent in each of the 17 local government areas.
"He has also directed stakeholders there to come up with the roads or any other project they deemed more pressing at the moment," he said.
The commissioner said that the execution of the numerous projects in the state had not been an easy task considering the economic downturn in the country.
He said that the state government had been resilient in its resolve for good service delivery to the residents of the state.
Ikpenwa said that the state government had concluded arrangements to establish the Enugu State Road Maintenance Agency considering the need to keep the roads in shape.
"This culture of maintenance is just something we have to adopt because it is the best.
"The idea is that the moment you hands-off from construction you must now initiate a maintenance process. You do not wait until it has gotten deplorable completely," he said.
Ikpenwa said that the bad condition of roads had made it imperative for the state government to maintain a steady surveillance on its roads. (NAN)