Oil prices waver after rising above $41 on Nigeria outages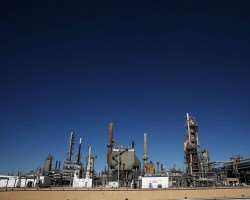 Russia says it will attend a producers' meeting next month
Oil futures wavered Tuesday amid uncertainty about global oil supplies ahead of a meeting among major producers next month to discuss freezing production.
Light, sweet crude for May delivery settled down 7 cents, or 0.2%, at $41.45 a barrel on the New York Mercantile Exchange. The May contract is the new front-month contract as of Tuesday, and Tuesday's settlement price is the highest front-month closing price since Dec. 1.
Brent, the global benchmark, rose 25 cents, or 0.6%, to $41.79 a barrel on ICE Futures Europe, the highest settlement since Dec. 4.
Prices have surged in recent weeks due to supply outages in Nigeria and Iraq, talk among major oil-producing nations about an agreement to freeze output and expectations of continued declines in U.S. production.
However, some analysts have warned that the rally could halt at around $40 a barrel, because that is a level at which some U.S. producers could bring new wells online. Drilling data released Friday showed that the number of rigs drilling for oil in the U.S. rose by one last week, reinforcing this viewpoint.
Prices recovered from early losses Tuesday after reports said Russia confirmed it would attend a meeting among members of the Organization of the Petroleum Exporting Countries and non-OPEC members planned for April 17. The news supported the notion that some major state producers, including Russia as well as Saudi Arabia and others, intend to move forward with an output freeze even if Iran and Libya decline to participate until they restore their production levels.
Abdalla Salem el-Badri, secretary-general of the Organization of the Petroleum Exporting Countries, said Monday that about 15 producing nations will attend a meeting on April 17 to discuss freezing production, but some OPEC members may not attend.
While the prospects of such an output-freeze deal have boosted prices in recent weeks, some analysts caution that the market might be disappointed. U.S. crude is up more than 20% so far this month.
"The expectations ahead of the Doha meeting in April are hopelessly excessive," said analysts at Commerzbank.
London consulting firm Energy Aspects said in a research note that the oil-price gains in recent weeks have been led by a change in sentiment, rather than a shift in the supply-demand balance. "The market has gotten a bit too carried away," the firm said.
Gasoline futures settled up 3.82 cents, or 2.6%, at $1.4971 a gallon, the highest settlement since Aug. 31. Diesel futures rose 1.47 cents, or 1.2%, to $1.2521 a gallon.
The American Petroleum Institute, an industry group, said in a report late Tuesday that U.S. crude supplies jumped by 8.8 million barrels in the latest week, according to market participants. The report also showed a 4.3-million-barrel decrease in gasoline stocks and a 391,000-barrel decline in distillate inventories, according to the market participants.