Gunmen kidnap three Kaduna pastors, demand N100 m ransom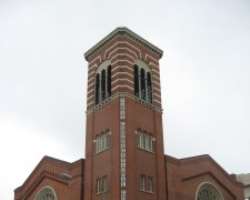 Unknown gunmen on Monday three pastors including the President of the United Church of Christ in Nigeria, Rev. Emmanuel Dziggau,  in Kaduna state, North West Nigeria.
The hooded gunmen were said to have stormed the Church's crusade ground along the Kaduna-Abuja highway and abducted the clergy man and two members of the church while other church members managed to escape.
According to a member of the church,  Reverend Dziggau and some members were at the area to clear the crusade ground, preparatory to their forthcoming church programme when the gunmen visited.
The General Secretary of the church and one of the eyewitnesses, Rev Jibrailu Wobiya, who confirmed the abduction called on the Federal Government and security operatives to do everything possible to ensure the safety of the clergymen.
He said the kidnappers had contacted him and demanded a ransom of N100m.
Ebuga described the abduction of the clerics as shocking, calling for their immediate release.
He said the three men might have been kidnapped because of the oncoming CAN national election.
He added, "We are not ignorant of the recent scheming against the Nigerian church with regard to the upcoming CAN national election, where the leaders have become the subject of attacks, particularly the leadership of TEKAN/ECWA bloc in CAN.
"As a body, we are calling on the government to do everything possible to ensure the safety of the leaders,  unearth their whereabouts and to have the perpetrators fished out.
Ebuga called on the TEKAN churches and the Nigerian church to rise up in prayer against the ugly development, asking them to pray that God would expose the sponsors and perpetrators of the kidnapping.
The Kaduna State Police Command had yet to confirm the kidnapping of the pastors on Tuesday.
The Police Public Relations Officer of the command, Abubakar Zubairu, did not return repeated telephone calls to his mobile.
The Chairman of the Christian Association of Nigeria in Kaduna State, Rev. George Dodo, described the pastors' abduction as "unpleasant and shocking."
The CAN's chairman, while confirming the incident, said he just heard of the "unpleasant" development on Tuesday, calling on security agencies to do all they could to unmask the perpetrators of the heinous crime.
Dodo stated, "I heard about it this afternoon; it is an unpleasant news, a shocking news to everybody. Government should put in motion all its security apparatus to ensure the liberation of those abducted."
Although the Kaduna Police command is yet to confirm the kidnap, spokesman for the Northern States Christian Association of Nigeria (CAN), Reverend Joseph Hayab, has condemned the abduction of the cleric and two members of his church.
He called on the kidnappers to release the three men unconditionally or be prepared to incur the wrath of God. He also called on security agencies to move into action and free the abductees from captivity.