MFM FC, Kano Pillars' coaches say ready for crunch tie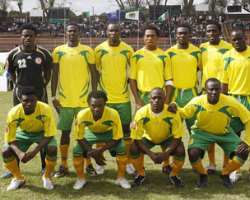 Top Nigerian Premier Football League NPFL clubs, Lagos-based MFM and Kano Pillars say they are ready to go head to head in their mid-week match.
The match, expected to be played under floodlight, will kick off at 7 p.m.
MFM, until last weekend, was topping the NPFL performance table before they were dislodged by Rangers International FC of Enugu after a 0-1 loss to Heartland FC of Owerri in Match Day 7 fixture.
MFM is currently placed second on the log with 13 points from 7 matches, while Kano Pillars occupy the third place with 11 points from 6 matches with a game in hand.
It will be recalled that MFM has yet to lose a home match since their start to the season Kano Pillars on the other side has impressive away record, losing only once and drawing other two fixtures.
Kano Pillars' only away loss was to Warri Wolves after which it drew 1-1 with Abia Wariors in Umuahia and played 2-2 with Lobi Stars of Makurdi in Match Day 6 encounter.
However, the coaches of the teams say they are aware of the importance of the match as a determinant of their position in the league and will leave no stone unturned in ensuring victory.
Both coaches have talked tough ahead of the mid-week crunch encounter.
Kano Pillars Coach, Baba Ganaru, told Newsmen on telephone that he expected a tough but a good match with the Pastor Daniel Olukoya Boys though the match will be played under floodlight.
We are expecting a good match and we hope to win. We have played under floodlight before.
Our continental matches were played under floodlight and we are used to it.
The match is about tactical depth, MFM is a good side and they attack well. I have watched them on two occasions, in their matches against Ikorodu United and 3SC of Ibadan.
They play with a lot of energy, the team that beat Nasarawa United at home cannot be underrated; even they played well against Sunshine Stars of Akure, he said.
Ganaru said that the match against MFM would be given its deserved attention, noting that it could be a determinant in their placement on the league table.
MFM is a good side, so, we are going to treat them alike; note that we have three points at stake; they are no underdogs, so we will face them squarely.
We presently have little injury concerns to some of our key players, Raji and Collins and Mathew Ifeanyi is in the camp of the national team, the Super Eagles.
We have some important players we are going to miss in the match but that notwithstanding, we have other quality players to fill in the gaps.
We will be coming to Lagos with an approach to be used for the game against MFM, he said.
On his part, MFM's Coach, Fidelis Illechukwu, said his team was battle-ready for the team that have won the league back-to-back.
This match will be a match to watch, thank God we have no injury concern and playing under floodlight may be interesting.
Although I have played under the floodlight before in England; MFM as a team has yet to play under floodlight, but aside that, our fans should expect a good football.
My first choice goalkeeper may be in the post because he manned the post on Sunday and also our Challenge Cup which we won 3-0.
I expect that he will man the post against Kano Pillars.
I also expect Onuwa to return to full play because Sunday's substitution was a precautionary one to keep him fit, but he will play a full match against Kano Pillars.