See The Full List Of Tony Elumelu Teep 2016 Winners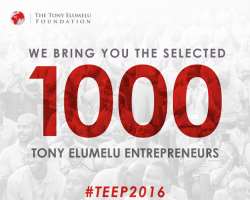 SAN FRANCISCO, March 22, (THEWILL) – The Tony Elumelu Foundation (TEF) has announced the selection of 1,000 entrepreneurs for the 2nd round of the Tony Elumelu Entrepreneurship Programme (TEEP) 2016.
Launched in 2015, TEEP is the largest African philanthropic initiative devoted to entrepreneurship and represents a 10-year, $100 million commitment, to identify and empower 10,000 African entrepreneurs, create a million jobs and add $10 billion in revenues to Africa's economy.
Over 45,000 entrepreneurs from 54 African countries applied, more than doubling the number of applications received in 2015. Successful candidates represent diverse industries, led by agriculture, ICT and fashion.
According to Tony Elumelu, Founder TEF: "In TEEP's first year we spent over $8 million of our $100 million commitment – with $5 million going directly to entrepreneurs as seed capital — and the results have far exceeded our expectations. We have funded entrepreneurs, established networks and helped extraordinary people take control of their destinies."
"The 2016 Tony Elumelu Entrepreneurs will become a generation of newly empowered African business owners, who are the clearest evidence yet, that indigenous business growth will drive Africa's economic and social transformation."
The final winners were selected from 53 African countries with the highest number of applicants from Nigeria, Kenya, Ghana, Uganda and Cameroon.
All five regions – North, East, Southern, Central and West Africa are represented from the following 53 African countries:
Zimbabwe, Zambia, Uganda, Tunisia, Togo, Tanzania, Swaziland, Sudan, South Sudan, South Africa, Somalia, Sierra Leone, Seychelles, Senegal, Sao Tome and Principe, Rwanda, Nigeria, Niger, Namibia, Mozambique, Morocco, Mauritius, Mauritania, Mali, Malawi, Madagascar, Libyan Arab Jamahiriya, Liberia, Lesotho, Kenya, Guinea-Bissau, Guinea, Ghana, Gambia, Gabon, Ethiopia, Equatorial Guinea, Egypt, Djibouti, Democratic Republic of the Congo, Congo, Cote d'ivoire, Comoros, Chad, Central African Republic, Cameroon, Cabo Verde, Burundi, Burkina Faso, Botswana, Benin Republic, Angola, and Algeria.
See the full list here
Meet the Selected 1,000 Tony Elumelu Entrepreneurs for TEEP2016
Story by David Oputah