Fair Skin Ladies Get More Movie Roles is Not True… Moses Inwang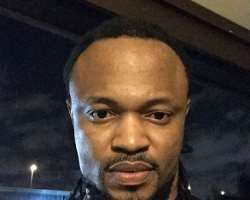 One of Nollywood's movie directors, Moses Inwang, has come out to debunk claims that light skin actors are given more movie roles than the dark skin actors.
Moses stated that there are actors with the likes of Genevieve, Omotola and others who are doing well in the industry and they are not fair skin.
The actor who was a guest on popular TVC entertainment programme monitored by Nollywoodgists.com stressed that though he is not in support of those bleaching their skin, people just need to be proud of the skin they have rather than temper with it.
In his words, 'That fact being said that movie roles are given to fair skin actors more is not true. Overtime, we've had the likes of Genevieve, Omotola and others who are not fair skin and they have been doing well in the industry so that fact or saying that Nollywood accept fair skin ladies more than dark skin is not true. I am not in support of bleaching of skin."