Isaac Idahosa: A Bishop with Large Heart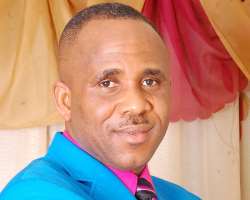 "Do not judge me by my success, judge me by how many times I fell down and got back up again".-Nelson Mandela
To Mindset Media Limited, Bishop Isaac Idahosa,the Senior Pastor of Godfirst Ministries International popularly known as"Illumination Assembly is one man of God whose creative footprints in ministry cannot be swept under the carpet and today, this noble media will continue to promote his good works in the kingdom of God both Nigeria and abroad.
Bishop Isaac Idahosa's meteoric rise in God's kingdom never started today and with determination and stint of vineyard commitment, he was able to over the trials of life. Having being in ministry for over 27 years, and still soaring high shows God's favour in a man that believes in kingdom assignment and passion. He is fast-becoming a sought-after conference and crusade speaker across the globe due to high level of preparedness in God's vineyard.
To Bishop Isaac Idahosa, everyday is a plus in one's life if God's direction is attached to it. In the Nigerian media, his view on the country's leadership and economy is highly respected and honoured by political and economic leaders.
In spite of some destructive criticisms on Bishop Isaac Idahosa by some foul-mouthed and uncouth personalities, yet his success in ministry continues to grow higher in all climes. Nelson Mandela says "Difficulties break some men but make others". In the face of destructive criticisms, Bishop Isaac Idahosa has continued to grow higher in ministry without hesitation. Those under his spiritual leadership have continued to shower encomiums on a man of God that wants others to grow along with him in ministry. He has used his international speaking engagements over the years to link many up and coming pastors to become world-class preachers.
Indeed, Bishop Isaac Idahosa is a rare gift in the kingdom of God whose sagacious style has not only attracted large worshippers to His vineyard but also as mentors to both old and young pastors in Nigeria and abroad. His social activeness on the media has helped over the years in propagating the good news of Jesus Christ. He remains a passionate man of God with an authority.
Godday Odidi
Social Media Analyst
08058124798
Lagos
Disclaimer:

"The views/contents expressed in this article are the sole responsibility of the author(s) and do not necessarily reflect those of The Nigerian Voice. The Nigerian Voice will not be responsible or liable for any inaccurate or incorrect statements contained in this article."
Articles by Godday Odidi