BBC Africa Debate looks at corruption in Africa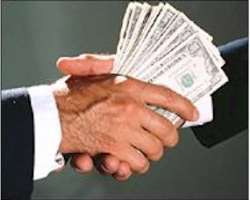 The March edition of BBC Africa Debate – the flagship current affairs discussion programme on BBC World Service radio - will come from Dar es Salaam, Tanzania. Presented by Zuhura Yunus and Owen Bennett-Jones, the programme can be heard on the BBC World Service on Fri 25 March at 1900GMT and online at bbcafrica.com , listeners can also join in with the discussion by using the hashtag #BBCAfricaDebate on social media.
The invited audience will be discussing the effect of corruption on Africa and what the continent can do to stamp it out alongside a guest panel including John Githongo, Boniface Mwangi and Zitto Kabwe.
75 million Africans paid a bribe in 2015, according to Transparency International's latest report with most Africans feeling that corruption is getting worse. Are African leaders and institutions pathologically corrupt? Or is this just a negative stereotype?
Kenya's President Uhuru Kenyatta has declared war on corruption, saying it was a "threat to national security".
In Nigeria President Muhammadu Buhari ordered the arrest of his predecessor's security advisor for allegedly stealing $2 billion dedicated to the fight against Boko Haram. Several politicians are also under investigation for alleged corruption.
Whilst in South Africa, investigations into the $23 million upgrades to President Jacob Zuma's Nkandla home using state money have resulted in him being asked to repay some of the money.
In Tanzania, the new president John Magufuli has declared war on corruption, calling his judiciary corrupt, firing many, including the head of the anti-corruption body and saying "I'm worried that even the people I'm firing because of corruption will easily secure freedom despite watertight evidence against them".
This edition of BBC Africa Debate will be recorded on the 22nd March and broadcast on Fri 25th March, listeners can use and follow #BBCAfricaDebate on social media to get involved.
The BBC Swahili team will also be bringing a debate in Swahili to listeners from the same venue on the same topic.
Further special programming from Tanzania will include an edition of NewsHour Extra. This hour-long programme will ask: Can language unite a nation? Looking at the role Swahili has played in nation-building in Tanzania, how it has helped the country unify, and the extent to which it may have held Tanzania back from engaging with its neighbours and the wider world. Should it be seen as a model for the rest of the region?
The programme will be broadcast at 0900GMT on Friday March 25 and available online after broadcast.
BBC Africa Debate is a monthly programme looking at the current issues that matter to Africa and bringing them to a global audience. Recorded on location around Africa and covering a wide range of topics, an invited audience engages robustly with a distinguished international panel.
BBC World Service's BBC Africa hub brings together the production of multilingual content about the continent on radio, on TV and online on bbcafrica.com . As it delivers content in English, French, Hausa, Kinyarwanda, Kirundi, Somali and Kiswahili, BBC Africa ensures a pan-African approach to the output, offering its audiences opportunities to join the global conversation. BBC Africa has teams based in London and across much of sub-Saharan Africa, and has well established production centres in various cities.
Follow BBC Africa on Twitter , Facebook , Google + , Instagram , Soundcloud and YouTube .
BBC World Service delivers news contentaround the world in English and 29 other language services, on radio, TV and digital, reaching a weekly audience of210 million.
The BBC attracts a weekly global news audience of283 million people to its international news services including BBC World Service,BBC World News television channel and bbc.com/news .