23 dead in terror attacks on Brussels airport, subway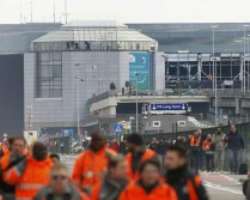 Three explosions that ripped through Belgium on Tuesday killed at least 23 people, according to Belgian media, and raised the specter of terror once again in the heart of Europe.
Ten died in a blast at a subway station, according to two Belgian broadcasters. The other 13 were killed, in addition to 35 injured, in two blasts at Brussels' airport, reported public broadcaster VRT.
The Belgian Office of the King's Prosecutor described the airport blast, at least, as a suicide attack, according to state broadcaster RTBF.
At least one explosion there happened outside the security checkpoints for ticketed passengers and near the airline check-in counters, an airline official briefed on the situation said.
The subway station blast happened in the Brussels suburb of Maalbeek, near the European quarter, where much of the European Union is based, according to CNN affiliate RTL. All metro stations in the city have been closed, according to the official Twitter account for the city's transportation agency.
In addition to that precaution, authorities have raised the terror threat level in Belgium to four — its highest. That step-up means army soldiers can be sent onto the streets to meet security needs.
It's unclear what caused all the blasts, or if they're related to terrorism.
According to Yahoo News Uk live blog,
• Belga agency said shots were fired and there were shouts in Arabic shortly before the blasts
• The attack centred on an American Airlines desk in a departure hall 
• Footage from inside the building shows a scene of devastation, with smoke rising from the terminal
• Latest reports from Belgium's public broadcaster suggest 15 died in the metro blast
• Brussels was already on a state of high alert following the arrest of Paris atrocity suspect Salah Abdeslam in the city last week