OGUN SIGNAGE BOARD REMOVES GOVERNORSHIP ASPIRANTS' POSTERS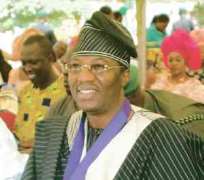 Ogun State Governor, Otunba Gbenga Daniel
The Ogun State Signage and Advertising Board has commenced the removal of posters of governorship aspirants of the Peoples Democratic Party, which were posted in different locations in Abeokuta, the state capital.
Officials of the board sprang into action around the Okeilewo area of the state capital on Friday, removing the posters of two PDP governorship aspirants, Mr. Lekan Ojo and Chief Jide Awosedo, who incidentally belong to the parallel body of the party in the state.
The move, however, generated tension as some contended that the action of the signage board was politically motivated and targeted at those who were not in the camp of the state Governor, Otunba Gbenga Daniel.
Awosedo, who spoke with our correspondent on the telephone on Saturday on the removal of his posters, claimed he was not aware that he needed the permission of any agency to post the campaign posters.
'I'm not aware that I need a permission to post the posters. I have gotten in touch with the people responsible for posting.
'By Monday or Tuesday, the necessary permission would be secured and there should not be any problem about it,' said the aspirant, who formally declared his intention to contest the governorship seat on Wednesday.