This PDP Balderdash In Rivers State Must Stop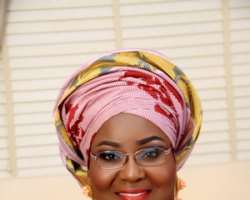 The Ag. Managing Director/Chief Executive Officer, Niger Delta Development Commission, NDDC, Mrs. Ibim Semenitari, had refused, against deliberate provocation, twist of facts and political hysteria, to join issues with persons and leadership of the Peoples Democratic Party, PDP, in Rivers State.
Her background, deep in the finest and richest culture and tradition of the Igbani tradition forbids her, a virtuous daughter, to engage in frivolities. That tradition has embedded in her the virtue of truth, respect and decorum. Anything otherwise has no part in her lifestyle.
More so, as an award-winning journalist and media manager, Semenitari understands the power of data, facts and decency of diction. Her resumé in dealing with those necessities are a library itself.
However, in recent times, especially since the emergence of a pseudo-government in Rivers State, and in lack of any Blueprint, the current regime has tended to institute a tradition that thrives on attempt to tarnish the image of Semenitari.
The latest is the gibberish authored by one Jerry Needam, Special Adviser on Media and Publicityto the PDP State Chairman, Bro Felix Obuah, in which they alleged that Semenitari engaged "in ballot paper hijack and falsification of polls results." Nothing could be more mundane, puerile, peevish and loquacious than such a claim. It is nothing other than a tale told by the moonlight. We suspect that PDP, desperate to build an empire of lies, is desperate to throw mud at Semenitari, whose knack for ethics, standards and capacity has fetched her global rating.
The penchant to distort facts, frame innuendos as the real and mutate truth have become the palm oil with which PDP and its cohorts in Rivers State eat their cola nuts.
While we have refused to join the swine in its wallow, we nonetheless, state that at no time did Semenitari engage in any electoral malfeasance as had been speculated by PDP and its vuvuzelas. As a believer in democracy, rule of law and sanctity of the people's will, Semenitari had last Saturday, March 19, 2016, during the legislative rerun elections in Rivers State, cast her ballot at Unit 008 Ward 5 Abam, Okrika. She was duly accredited by agents of the Independent National Electoral Commission, INEC, after which she cast her vote and left to her residence.
While she was at the PU, there was no incident of ballot or votes' snatching, nor any case of irregularity. For any case of ballot paper snatching to take place, such an act must have been committed either at a PU or RAC or any point of convergence for election materials' distribution. And since such never happened at Semenitari's PU at her presence, any accusation by PDP linking her to such, is nothing but a falsehood built on envy and jealousy of the honour God has continued to extend to her. We are, therefore, left to wonder at where and when she did the ballot paper hijack and falsification of polls' results as PDP would want sane society to believe.
So, for the Rivers State PDP Chairman to state otherwise is to say that light had become darkness.
Conclusively, the call for her arrest is baseless, unfounded and reckless and should be dismissed as mere gutter-snipe.
Semenitari will not be deterred from rendering services to the Niger Delta region and peoples through her portfolio in the NDDC. But we hold the opinion that Mr. Obuah and his ilk ought to mature and leave being kindergartens who, yearly would only babble and mimic adults.
Bekee Anyalewechi
SA(Media) to the Ag. Managing Director/CEO
Monday, March 21, 2016
Disclaimer:

"The views/contents expressed in this article are the sole responsibility of the author(s) and do not necessarily reflect those of The Nigerian Voice. The Nigerian Voice will not be responsible or liable for any inaccurate or incorrect statements contained in this article."