Buhari And The Illguided Criticism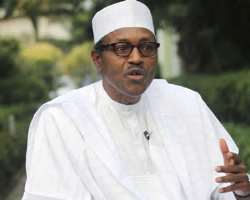 Nigerians have been criticising the Buhari-led Federal Government, especially since the Dollar/Naira margin soared. They have called on the government to reverse its decision on forex. They have asked President Muhammadu Buhari to devalue the Naira. They have queried the government's economic policy. They have also lamented the government's apparent inaction, insisting it is killing investments and imports, which they claim are the backbone of a non-manufacturing economy, like Nigeria.
Some others even say the government lacks economic direction or policy, alleging that the anti-corruption war is being prioritised at the detriment of other demanding economic issues. But then one wonders, if Nigerians have been patient and fair enough to the All Progressives Congress government. Honestly, one cannot understand how Nigerians want Buhari and the APC to fix in less than one year a country and/or better still, an economy that has been ran aground for decades.
Truth be told, things are hard, and Nigerians are literally crying out from the burden. But then, Nigerians must also understand that one spends more time in building a house than bringing it down. It's quicker to destroy than to construct, and even if Buhari is an agent of change, he cannot perform miracles. Even Jesus Christ in performing miracles had to follow certain gradual physical processes, if not spiritual, to attain his goals.
One reason why Nigerians must rejoice is that at least, President Buhari is toeing the path to restore Nigeria's glory both locally and internationally. Many may not believe this, but very few people like the former President of the Nigerian Bar Association, Olisa Agbakoba do and they have pitched their tents with the President, chiefly because they understand his government's policy and leadership style.
The maritime lawyer has recently come out to say the government's policy style is "strict monetarism", going by the objective of its anti-corruption war. According to him, strict monetarism is the process of gathering together monies scattered around for a better and maximum economic use and direction. If not for anything, at least, Agbakoba's revelation has assisted us in putting the Buhari's government's policy into a proper perspective.
He believes that the policy is the best for the country at this point in history, considering the wasteful adventure of the previous government. But he however, frowns at the delay or refusal of the government to commence spending of monies already collected on developmental projects like infrastructure, agriculture, education, mining and technology. After all, the Treasury Single Account (TSA) under the Central Bank of Nigeria has saved over N3trillion already, and the anti-corruption war has so far, been very successful, as well.
Those, who believe the Naira must be devalued, also believe that the country is broke. They have argued that since the country's foreign earning due to declining oil price has been reduced by almost 80%, the country may not be able to meet its basic needs. But then, they forget that this government has from the outset insisted that it would diversify the economy, and also encourage the local manufacturing sector.
Hence, it decides to ask importers to source their foreign exchange from the black-market, to discourage, if not minimise, importations of all sorts into the country. The wisdom in this position is that before now, importation has never been in the interest of the country or Nigerians, rather it has been in favour of the very few Nigerians, who refer to themselves, as importers, and perhaps some portfolio investors. The truth is that this set of people, who are just about 3,000 in number, have been short-changing the government by under declaring and under paying their import duties. They pay, with the connivance of the Customs officials, far less than what they are supposed to pay to government, as import duties.
Take for instance, an importer, who is supposed to pay N34.5million, as import duties to the government, pays only N4.5million therefore, goes away with a total of N30million. Imagine how much the government has been forfeiting to such sharp practices, if the about 3,000 importers have been involved in such criminal ploy. It follows therefore, that while the country bleeds to death, the so-called importers live big and even afford to sell their imported wares, mostly fake, cheaper than those manufactured locally, because they have a way of swindling the government.
The other concern is the misconception that because Nigeria's earning from oil has reduced, Nigeria is bound to be short of funds to meet its basic obligations. But one important question that must be asked is that can a country, which has so many in-debtors, who have stolen from it and has efficiently put in motion measures that are already recovering such stolen monies, be tagged, as broke? The notion that when a man's major source of revenue is halved, the man automatically becomes unable to meet his obligations is not tenable in this case, if the man is massively indebted to, by others. In the case of Nigeria, aside that the in-debtors are already being followed up by the anti-graft agency locally, several banks around the world that are also holding onto the country's money have promised to release them to Nigeria.
It follows that already, there are too much money being kept everywhere and anywhere within and without the country, and it's the duty of a focused and determined government, like that of the APC, to recover them, and then appropriately re-channelled them into developmental-projects, such that will resuscitate the local manufacturing and agricultural sectors, and bring about obvious infra-structural developments.
Take or leave it, the local manufacturers are already welcoming and thanking President Buhari for his bold steps, even in his less than a year in office. They have confessed that the government's preference for locally manufactured goods has already gone a long way to revitalise the sector. Imagine, what would happen at the end of 4years of optimum local manufacturing. This, to a large extent, also shows why the President, amongst several other important reasons, decides to re-channel the N5, 000 monthly stipends to infrastructure, agriculture, education, mining and technology, in order to create a long term impact, rather than embarking on a wasteful political venture for a misguided populace.
Of course, the timing for the commencement of the reinvestment or re-channelling of monies so far collected into the aforesaid sectors may be another topic for discussion, especially with the almost deliberate refusal of the National Assembly to pass the 2016 appropriation bill; but then, it's obvious that the Buhari-led government has a policy direction, and a clear understanding of its "strict monetarism" policy.
Georges Adebajo Macnobleson-Idowu
96.9Coolfm, 95.1Wazobiafm and 99.3Nigeria Info, Lagos.
Regards,
Georges Macnobleson-Idowu,
NEWS EDITOR,
Coolfm, Wazobiafm & Nigeria Info,
"Enjoy High Speed and Affordable Internet from COOLLINK - http://www.coollink.us, [email protected], 0809 993 0030"
Disclaimer:

"The views/contents expressed in this article are the sole responsibility of the author(s) and do not necessarily reflect those of The Nigerian Voice. The Nigerian Voice will not be responsible or liable for any inaccurate or incorrect statements contained in this article."