My Father Was A Proactive, Peace Loving And Upright Leader. ...Paul Ibru....As Emerhor Consoles Ibru Family In Lagos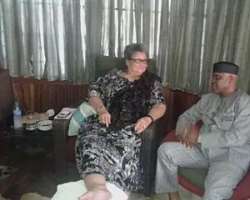 Paul Ibru, eldest son of the first executive governor of Delta State, (Olorogun Felix Ibru) told Delta APC delegation led by Olorogun Otega Emerhor (OON) today in Lagos, that his late father will be remebered for the positive efforts he made towards nation building and the advancement of constitutional democracy in Nigeria.
According to him, "my Dad was a unique father, leader and a progressive who strived so hard; using political platforms to actualize his dream of changing lives and at the same time utilized the several opportunities he had to serve Deltans as governor and the good people of Delta Central as Senator of the federal republic of Nigeria."
He expressed absolute displeasure over the alarming rate of poverty, joblessness particularly the sorry state of insecurity and infrastructural decay in the State, pointing out that it is unacceptable for any right thinking Deltan to say that we have fared well as a rich oil producing state in Nigeria.
The visibly unhappy Ibru urged current and future leaders to shun politics of bitterness and support each other so as to fast track the socioeconomic development in line with the vision of his late father and other founding fathers of Delta State.
Responding on behalf of APC Delta delegation, Olorogun Otega Emerhor disclosed that it was as a result of the sorry state of affairs in the state that propelled him to contest the 2015 governorship elections. He said that the highly sophisticated and crude rigging formula of the Peoples Democratic Party (PDP) eventually dashed the hopes and aspirations of Deltans; and rudely denied them of the opportunity to experience good governance.
He appealed to politicians and public office seekers to emulate Olorogun Felix Ibru's enviable leadership qualities by leading the people with clean hands and pure heart, adding that the departed first executive governor of Delta State pointed the way forward for the good of Deltans only for some unscrupulous politicians to plunge Delta into a pitiable state.
The APC chieftain further assured that there is hope for Delta State in 2019 as a result of positive political alliance and realignment currently going on.
He assured the IBRU family that the great vision, expectations and heart desires of their late father will be substantially accomplished by the time APC eventually take over the mantle of leadership in the state come 2019.
The visit which was to console the Ibru family almost turned out to be a political talk show as several other guests spoke extensively about the political sagacity and enviable leadership qualities of the departed first executive governor of Delta State, Olorogun Felix Ibru.
Former first lady of the State, Chief (Mrs) Matilda Ibru who is obviously pained by the exit of her Romeo, said her late husband was a complete gentleman, a caring father, a leader and loving husband who will be dearly missed now and always.
She expressed the Ibru family's appreciation for the condolence visit and prayed God to grant the heart desires of Olorogun Emerhor and his entourage.
In attendance was children of late Felix Ibru, some members of the extended family, Olorogun Solomon Edoja, Omasan Bob-Emmanuel (member of APC DELTA and close friend of the Ibru family), some Exco members of Urhobo social Club Lagos (they accompanied Olorogun Emerhor), Dr Fred Latimore Oghenesivbe (Emerhor's Chief Publicist) and several others.
March 20th, 2016.