Heavy Security Presence In Gbagyi Villa Causes Tension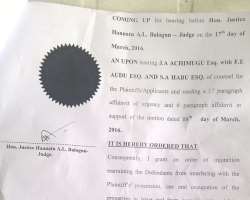 El-Rufai deploys heavy security team to Gbagyi Villa despite a restraining order of injunction granted the community by a court of competent jurisdiction.
The presence of these security men loaded in five Operation Yaki Patrol Van have been patrolling the area since 5am today and are still there at the time of filling this report. They team of security men in five Operation Yaki Patrol Van going round every street and domain of Gbagyi Villa, the patrol van are numbered: 05, 015, 025, 026, 011.
The frightening security beef up around the area may not be unconnected with the planed demolition of Gbagyi Villa, as tension has trailed the whole area today.
Children have refuse going to school, so also workers and business men in Gbagyi Villa stayed back to observe what will happen, as all property owners in the community have vowed to defend their property with their last blood, just as the state house of assembly will be deliberating on the matter of the planed demolition of Gbagyi Villa in the floor of the house this morning, as recent news about the state are not pleasing at all due to governor El-Rufai's draconian laws thereby painting the state in a negative scale.
The community leaders have pleaded with the youths to remain calm to avert breakdown of law and order.