CBN chief praises Zenith Bank support for non-oil export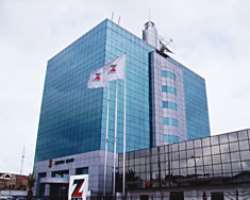 The Central Bank of Nigeria (CBN) Deputy Director, Trade and Exchange Department, W. D. Gotring has ranked Zenith Bank Plc high among non-oil export supportive banks.
Speaking at international trade seminar organised by Zenith Bank Plc in Lagos, with theme: 'Exporting for growth: Opportunities in non-oil export',  he called on the government and other stakeholders to diversify the economy from oil by growing the non-oil export segment of the economy.
He also urged other banks to emulate Zenith Bank's commitment to real sector development and non-oil segment of the economy.
He, however, urged banks to deepen funding for non-oil segment of the economy to boost the volume of forex receipts and economic stability.
Group Managing Director/CEO of Zenith Bank Plc, Peter Amangbo, expressed the commitment of the lender to build non-oil export service excellence in the trade and investment sectors. This, he said, would lead to stability and growth of the economy.
He said Nigeria is faced with the task of improving its Balance of Trade (BoT) by focusing on the non-oil exports since the sharp drop in oil prices in the international commodities market opened up the vulnerability of the nation's economy.
For him, increasing the country's non-oil exports will help the economy rebound, create jobs, engender long-term prosperity, support sustainable economical, social and environmental growth while contributing to the development of many states.
'Zenith Bank will continue to make significant contributions in the non-oil sector. We are focused, will embrace and evolve solutions that facilitate non-oil export. We will do more to help manufacturers, farmers, and entrepreneurs sell made-in -Nigeria products and services globally to benefit the economy,' he said. The Nation