The Impunity of Buhari's Government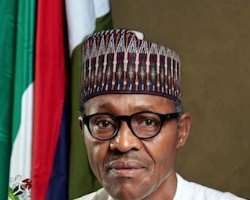 I listened to the Ekiti DSS spokesman, Garba, with a very heavy and burdened heart, as they showed the weak Ekiti State Honourable that was illegally detained by them for the general public to see. I was thoroughly shocked and bewildered to hear the DSS spokesman saying that Hon. Akanni Afolabi is being held in detention bothering serious security breaches.
This is in spite of a pending law order that Hon. Akanni Afolabi should be released. I am at a loss on how a governemt agency that should uphold the law will treat a court of law and indeed our hallowed judicial system, with such odium, disdain and wanton disrespect. My concern is the implication of the action of the DSS, on the rule of law, generally.
We cannot continue the culture of impunity and wanton disregard for our sacred institutions and at the same time expect a change. The distasteful impression is given that the courts and their decisions, do not matter, and that the rule of might is always superior.
It also gives a dangerous but unsubstantiated impression, that the DSS is privy to a case it has not address to a law court, as to be confident of its content to favour its position, to have such brazen confidence to predict the outcome of a judgment that is yet to be address to a court.
I can hardly now see any difference between the government in power at the federal level, and indeed the opposition, that is if the former is not even worse.
The courts have become more like a toothless bulldog and powerless rubber stamps. I call on the people of good conscience to speak out against the rule of force that is been witness in Nigeria because keeping mute in a time like this is a criminal act.
As for me, I am waiting patiently for the court to throw off and reject this open insult to its authority and integrity.
Kazeem Olalekan Israel,
Ibadan, Nigeria.
Disclaimer:

"The views/contents expressed in this article are the sole responsibility of the author(s) and do not necessarily reflect those of The Nigerian Voice. The Nigerian Voice will not be responsible or liable for any inaccurate or incorrect statements contained in this article."