25 Legacies of Rasheed Bola Adekunle (Boladek)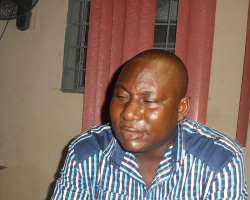 "It is not great men who change the world, but weak men in the hands of a great God".-Brother Yun
The history of Ifelodun Local Council Development Area (LCDA) of Lagos State grassroots entrepreneurs cannot be completed without mentioning a man whose ethnical background is traced from Kwara State,Mr Rasheed Bola Adekunle popularly called by friends as'Boladek'.
Our recent entrepreneurial evaluation on his noble profile shows that his flamboyant legacies speak on grassroots development and youth employment.
Having read Electrical Engineering from the Lagos State Polytechnic, Mr.Bola decided to venture into oil business until a friend advised him to diversify into sweepstake business which has over the years paved way for him.
He went into the business with passion and faithfulness and today, Bola is not just a household name but grassroots entrepreneur with integrity. The 47-year-old grassroots entrepreneur has brought creativity and innovation into lottery business in Ifelodun LCDA over the years where it was misconstrued that the business only met for never-do-well personalities. Global creativity saw Boladek excelling at sweepstake business more than his peers in Ifelodun community.Mr Rasheed Bola Adekunle is the Chief Executive Officer of Boladek Global Investments Nigeria Limited and a philanthropist to the core. 25 legacies of Mr.Rasheed Bola Adekunle in Ifelodun LCDA you must know.
1. Mr.Rasheed Bola Adekunle is a devoted Muslim.
2. He is humble and disciplined to the core.
3. He wants others around him to succeed in life.
4. He believes in grassroots empowerment and entrepreneurship.
5. He belongs to grassroots hall of fame leaders and entrepreneurs in IfelodunLCDA.
6. He has over 12 well-furnished sweepstake outlets spread across Ifelodun community including DSTV decoders and subscription payments.
7. He has love for education.
8. He does not have interest in politics.
9. He belongs to the school of thought of grassroots achievers in Ifelodun LCDA.
10. Mr.Rasheed Adekunle is one man that is loved by many.
11. His legacies remain immortal in Ifelodun community.
12. He does not run unhealthy competition of business with anybody.
13. He is a brilliant businessman.
14. He admires great political development of politicians that are ready to serve Ifelodun community.
15. He is one frontline Ifelodun mentors in small scale businesses.
16. He is a well-dressed businessman.
17. He is not a religious fanatics but his philanthropic gesture is seen in Ifelodun churches and beyond.
18. He is accessible.
19. Mr.Rasheed Adekunle has received several meritorious awards from different media organizations on merit.
20. He is an entrepreneur with creative vision.
21. He has love for grassroots media.
22. He is a gentle speaker but very firm in decision-making.
23. He is a charitable personality.
24. He has affirmative spirit.
25. Boladek is a man with his word.
Among the entire sweepstake business magnates in Ifelodun LCDA, Mr.Rasheed Bola Adekunle stands out as the best. He is happily married and blessed with lovely children.
Godday Odidi
Social Media Consultant
08058124798
Lagos
Disclaimer:

"The views/contents expressed in this article are the sole responsibility of the author(s) and do not necessarily reflect those of The Nigerian Voice. The Nigerian Voice will not be responsible or liable for any inaccurate or incorrect statements contained in this article."
Articles by Godday Odidi