MASS RALLY IN JAPAN AGAINST US BASE ON OKINAWA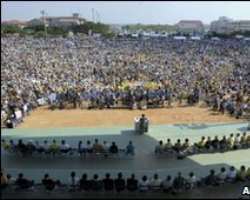 Tens of thousands of people have attended a rally in Japan's southern island of Okinawa demanding that a US military base be moved off the island.
Under a 2006 agreement with the US, the US Marines' Futenma base was to be moved from the centre to the coast.
But demonstrators want Prime Minister Yukio Hatoyama to stick to an election pledge to remove it completely.
The row over the base has undermined relations between his centre-left Government and the US.
The BBC's Roland Buerk in Tokyo says Mr Hatoyama staked his job on resolving the issue by the end of May.
He is now under pressure because of his apparent dithering over the base, our correspondent adds.
His handling of the issue could be critical ahead of upper house polls in July.
Japanese have long been resentful of the massive US base on the island, which is home to most of the 47,000 American troops based in Japan.