NIGERIA COPYRIGHTS COMMISSION PARTNERS NSCDC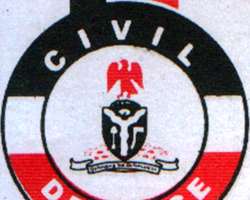 The Commandant General of Nigeria Security and Civil Defence Corps (NSCDC), Abdullahi Gana Muhammadu, says the NSCDC is fully prepared to collaborate with the Nigeria Copyrights Commission (NCC), by providing solid back-up to the NCC to enable the Commission perform her duties effectively in tackling piracy and copyright for the overall good of the country.
The CG made this assertion in his office when the Director Enforcement, Augustine Amodu, led some senior Management staff of the NCC on a courtesy visit to the NSCDC National Headquarters, Abuja.
Augustine Amodu on behalf of DG NCC congratulated Abdullahi Gana Muhammadu for his appointment as the Commandant General of the NSCDC and eulogised him for his efforts in promoting Inter-Agency collaborations.
Amodu highlighted that the NCC is seeking partnership with the NSCDC as they need back-up from the Corps in discharging their constitutional mandate .
He disclosed that the inability of the Copyrights Commission to bear fire arms is hampering their activities, hence there is the utmost need to partner with the NSCDC, as they believe that the Corps will give them the much needed collaboration.
The Director also revealed that the NCC's synergy with the Nigeria Customs led to the seizure of pirated materials worth about N10.5 billion.
More so, the Commission has arrested 500 pirates, pointing out, that with the back-up from the Civil Defence they will do more.
Gana who welcomed and received the visitors in his office, assured that the Corps is ready to grant their request and will even form a team with the NCC to give them full scale support.
In the same vein, members of the Nasrut- lahi faith Society (NASFAT) Abuja branch , led by Dr. Nasir O. Mustapha paid courtesy call to the Commandant General and said, that they came to the NSCDC to seek partnership with the Corps in the area of provision of Security during the programmes of the Society.
The Muslim cleric noted, that NASFAT is a worldwide organization which started in Lagos, Nigeria, for the welfare, spiritual growth and educational development of the Muslim Faithfuls.
The Commandant General responding, posited that he has strong support for the Society and really appreciate the good work NASFAT is doing in Nigeria and urged them to see what they can do in assisting IDPs in the North East.
The Leader of the Civil Defence challenged the organization to look into the incessant cases of drug abuse in the country and address it by intensifying media campaigns against such wrong act and educating the youths and the women in particular.
Further , according to Gana, ''Going by the Corps mandate to protect the Civil populace at all times, I assure the Society that the NSCDC will do all within the Constitutional mandate to provide your organization with the needed security ''.