Science Education, Effective Syllabus Key To Nigeria's Development - Airtel CEO, Ogunsanya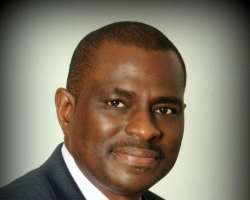 Lagos, Nigeria; 16th March, 2016: Managing Director and Chief Executive Officer, Airtel Nigeria, Mr. Segun Ogunsanya, has called on government, policymakers and other stakeholders in the Education sector to deepen science education in schools and develop a curriculum that prepares students for the present-daysituations, thereby turning out employablestudents.
Mr. Ogunsanyamade this remark at the 21st Annual Lecture, Award of Honours and Postgraduate Scholarship event organised by the Stephen Oluwole Awokoya Foundation for Science Education (SOAFSE) on Tuesday, 15th March, 2016 at the Muson Centre, Onikan, Lagos.
While speaking on the important relationship between Science Education and getting Nigeria on track digitally, the Airtel CEO, who was the Guest of Honour at theeventalso charged government, private sector and nongovernmental organisations to form a 'triangle of influence' to accelerate andboost development in the education sector.
Mr. Ogunsanya noted that Science& Technology impactsevery area of life and every sector, including business& commerce, healthcareservices, education, government, banking, telecommunications, agriculture, entertainment among others.Making reference to thetelecommunications sector, henotedthat before the advent of Global System for Mobile Communication (GSM), Nigeria had less than half a million telephone lines and subscribershad to wait for up to six months before they get connected.
"But with the advent of GSM, made possible byScience & Technology, it only takes just a few minutes to get a mobile number connected today.This is what technology does, it liberates people. Currently there are over 140 million connected mobile lines in Nigeria. And for every 10 per cent increase in connectivity, there is 1.3 per cent impact on Gross Domestic Product (GDP)," Ogunsanya said.
For Nigeria to continue to enjoy the benefits of Science & Technology, Ogunsanya therefore recommended that Science Education should be made compulsory at Secondary School level, and stakeholders must set up programme for exceptionally gifted people in science. He further advised that syllabus in secondary and tertiary schools should be designed to prepare students for the workplace in order to turn out employable graduates.Ogunsanya noted that the need for teachers to be retrained at intervals, and also encouraged outstanding students to pursue career in teaching.
The Airtel CEO also highlighted the contributions of Airtel Nigeria towards the development of education in Nigeria through its Adopt-a-School initiative, which has provided conducive learning environment, educational materials to students in Airtel's adopted schools across Nigeria.
The event, chaired by the Founder and former Chairman of Diamond Bank, Mr. Pascal Dozie also recorded the presentation of recognition awards to three prominent Nigerians for their contribution to education namely, Chairman, Chrisland Schools Ltd& Chancellor of Chrisland University, Dr. (Mrs.) Winifred Awosika; Engr. (Dr.) Olufemi Lalude and Engr. (Dr.) Olumide Phillips. Also, eight students who graduated with First Class honours selected from various Nigerian Universities with were awarded postgraduate scholarships.