Amaechi's Planned Tour Of Electoral Units On Election Day, Provocative, Inciting – PDP
…Wants Chief Of Army Staff, Bori Camp Brigade Commander To Respond To Amaechi's Claim On Use Of Soldiers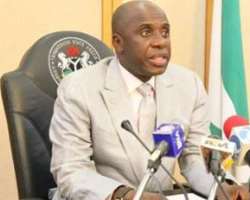 The chairman of the Rivers State chapter of the Peoples Democratic Party, PDP, Bro Felix Obuah says the planned monitoring tour of all the electoral units in the State by former Governor Chibuike Amaechi during the re-run election on Saturday, March 19, is not only provocative but also aimed at inciting crisis in the State.
The State PDP chairman through a statement signed by his Special Adviser, Media and Publicity, Jerry Needam regretted that Amaechi after failing in his bid to orchestrate commotion in some parts of the State through the activities of cultists and compromised military personnel acting on his orders, he has decided to execute his last and final plot through the planned tour.
Describing the planned tour as unconstitutional and a direct affront on the electoral law, Bro Obuah warned that the boastful minister of Transport, Chibuike Amaechi should be held responsible for the consequences of such dangerous undertaking.
Also condemning Amaechi's threat to begin his planned election monitoring tour at Governor Nyesom Wike's unit, the State PDP chairman said there must be more in the tour than meets the eye.
He wondered why the leadership of the All Progressives Congress, APC and the president are keeping silent on such condemnable plot by one of their own, adding that they must be acting in concert with Amaechi but will fail.
More worrisome, according to Bro Felix Obuah is why Rivers State's own re-run experience is so different that the threat to the lives of innocent Rivers people by Amaechi's rascality and desperation does not matter to both the federal government and the APC.
"Are Rivers people sacrificial lambs for the failure of APC in other places or is PDP responsible for the hardship the APC has brought on lamenting Nigerians," Bro Obuah queried.
Similarly, the State PDP boss wants the Chief of Army Staff and the Brigade Commander of the Nigerian Army, Bori Camp to respond to Amaechi's claimed planned deal with the army to flood the State with soldiers whom he boasted are more loyal to him than the police.
Bro Obuah said the way and manner Amaechi is carrying on and going about intimidating people with his claim of having the army in his pocket calls for caution and a clear cut statement from the Army high command and the Brigade Command whether Amaechi's claim is true or not to disabuse the minds of the people.
The Rivers people, Bro Obuah said are getting uncomfortable by the rumoured complicity of the army in APC's plot to rig the Saturday's re-run elections in the State which he called direct invitation to anarchy if it's true.
Signed:
Jerry Needam
Special Adviser On Media And Publicity
To The PDP State Chairman, Bro Felix Obuah
Wednesday , March 16, 2016.