Letter To Hon. Minister Chibuike Rotimi Ameachi "Rivers State Looks Up To You"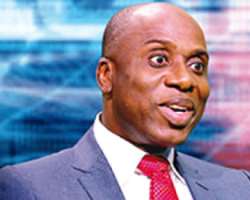 "Under my tenure as governor of Rivers State, we redefined governance and repositioned leadership"_ Chibuike Rotimi Ameachi (Ministerial Screening 2015)
"Legendary Politician", I am forced to call you sir, born 27th may 1965 into Ubima Community, in the Ikwere Local Government Area of Rivers State, you became the 5th governor of my state, from 2007 to 2015. A defected member of the People's Democratic Party (PDP) having served as special assistant to DR. Peter Odili who was then deputy Governor of River state between 1992 and 1994 before you moved on to Rivers State house of assemble in 1999. You have grown and learnt the rules and tricks in politics, and I must say that I am gradually learning from you sir.
The "Lion of Ubima" they have called you, respected and celebrated across Rivers State, as key Note member of the All Progressive Congress (APC); you have gained so much recognition from the sitting President, Mahammadu Buhari as you where appointed the Director General of the ruling A.P.C ahead of the presidential campaign, defeating our own brother Ex. President Goodluck Jonathan.
I don't wish to know the truth in what others think, as my main aim of writing you this letter is to tell you that you have become a role model and mentor the Nigerian youths look up to. At age 50, you have grown pass been called a youth, but the joy is that at age 34, you gained grounds in the politics of Rivers State and I believe before I get to this age, I must have gained grounds in what I do.
You have gradually become one of the most "popular" men in Nigeria today, and I know for sure every media person is hungrily waiting to report issues about you. I still have issues as to why you where not awarded as the Most Influential Man In Rivers State at maiden edition of Port Harcourt Business and Peoples awards (50 Most Influential Persons awards 2015), but speaking with the organizers after the event, I have come to understand that it was politically sponsored as the organizers claim you turned down their offer of sitting in the midst of people I describe as enemies to Rivers People.
Hon. Minister Sir, as much as you have been giving appointment at the federal level as the Minister of Transport, I would plead that you pay attention to the Niger Delta Youths (Rivers People) as we look up to you for change. As an Ikwere Youth from Orogbum in Ogbum-nu-Abali, here in Rivers State, I have always prayed that someone from my tribe (Ikwere Kingdom) gets to the level you are pushing today, the likes of Late; Dr. Obi Wale, who was murdered in cold blood following his fight towards building Port Harcourt as an Ikwere Owned State left the dreams of Passionate "Ikwererians" like myself hanging. The fighter may be dead, but his dreams lives on and I know for sure that before Obi Wale's tragic murder, he must has in one way sparked a brain that would continue his legacy and inspire a new and strong Ikwere Kingdom.
For a fact, irrespective of your political affiliation, you are one politician who has always had the interest of Rivers People at heart. Your transformation of Rivers State from the garbage city they left it, to the garden city it used to be, improving on our educational facilities and face lifting our roads and streets gives me so much joy sir. "Yesterday" they called Rivers State a "PDP State", but Today I am call it an "Ameachi State".
Elections are coming, March 19th re-run elections is a second chance for Rivers people to clarify our stand on #Change and I believe in my people. Sir, I plead that you support our people (Rivers People) deliver our State from the hands of these "Political Monsters" who through cult activities have made our state unsafe, I ask that you do not relent in your duties as a father for rivers youths and deliver not just APC but Rivers State in general.
"I find it difficult to do what people want me to do, if it clashes with my principles, if there is one man that those not like corruption, I am that man"_ Ameachi
#LongLiveRivers, #LongLiveAmeachi, #LongLiveAPC, #LongLiveNiggerDelta, #LongLiveNigeria.
Disclaimer:

"The views/contents expressed in this article are the sole responsibility of the author(s) and do not necessarily reflect those of The Nigerian Voice. The Nigerian Voice will not be responsible or liable for any inaccurate or incorrect statements contained in this article."