GTBank Refunds Customer's N400k Stolen By Fraudster Who Swapped Her Airtel Sim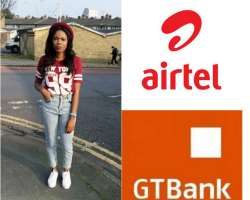 Guaranty Trust Bank (GTBank), a leading financial institution in Africa has once again displayed high commitment to customer's satisfaction by refunding customer whose money was stolen recently by a fraudster.
In January 2016, a young lady by the name Adejoke lost some of her belongings and had her SIM card swapped by an Ibadan-based fraudster, with the help of Airtel, who she alleged harassed her after she went to their office to complain. After the fraudster swapped her sim, she said, her account was wiped clean of the N400k she had saved for her programme in the UK.
The story which was first published on micro blogging social media platform Instagram, got the attention of the bank and Nigerians after it was made public by an instagram news handle @instablog9ja via the url https://www.instagram.com/p/BC_HbpNRr2e/
Just yesterday, March 15th 2016, the young lady wrote to show her greatest appreciation to GTBank for refunding her stolen N400,000 even when Airtel ignored her and made her feel helpless.
In her words, she wrote "Goodevening to you. I would like to thank you yet again for a Page like yours and for being unbiased about bringing news as it is. God bless you.mI just wanted to update you like i said i would concerning this story. .
Airtel till now did absolutely nothing about my stolen money even though they admitted the Scam of 400k by sim swap came from one of their Mobile Shops,they never replied my letter from the Lawyer even after recieving it, neither did they try to reach out to me after my meeting with them last month.
I am presently in London for my Courses and just want to focus till i am back home to do the needful regarding them.THE GOOD NEWS IN ALL IS GTB MANAGEMENT TOOK IT UPON THEMSELVES AND REFUNDED THE MONEY (400k) even though the fault was from Airtel and the explanation was as short as this - "The reversal was done based on the complaint of unauthorized deduction from your account which you reported at our branch"
I got the Alert yesterday. I am still in awe by this act of the Management of GTBANK and all i can say is God bless GTB. As for Airtel, I won't stop till justice is served and Nigerians treated with respect by these multinationals. What if I had no other money to school? Or no support from Family and a platform like yours? I am indeed grateful. Thank you so much for everything.