Lawyer slumps, dies in court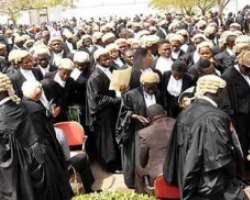 There was panic on Tuesday at the Igbosere Magistrate's Court, Lagos, after a lawyer, identified only as Chidi, slumped while asking for a change in the adjourned date.
It was learnt that the lawyer gave up the ghost a few minutes later on the court premises before he could be conveyed to a hospital.
He had come late for the trial of his clients – Okedairo Okedeji, 38, and Akolade Agbola, 28 – who were arraigned on February 29 for allegedly stealing meat and snail worth N28,000 from Southern Sun Hotel in Ikoyi, Lagos.
Chidi, who appeared before the magistrate, Mrs. F. M. Dalley, after the case had been adjourned till April 14, apologised to the court that he was held in traffic.
"While pleading with the magistrate for a change in the adjourned date because it was not convenient for him, he started coughing uncontrollably and gasping for breath," a police prosecutor at the court told our correspondent.
He added that the lawyer shouted 'Obim!' 'Obim!' (My chest, my chest!) as he was rushed outside the courtroom.
"He was rushed downstairs by one of his clients, who tried to get a cab that would take him to a hospital. But he died before the cab arrived," another prosecutor said.
It was learnt that his corpse had been deposited at a morgue. PUNCH