Economic growth: Buhari lists Dangote, GE, Samsung, others as most strategic investors in Africa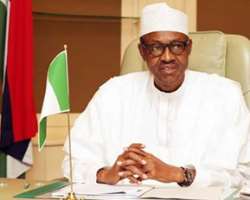 President Muhammadu Buhari has described Dangote Group, General Electric, among others as strategic investors sustaining African economy and urged them not to relent.
He called on other investors in Africa to consider the strategic nature of investments made by the conglomerates and emulate them in order to enhance the value of the continent's economy.
The President made this remarks during the opening of proceedings at the sixth African Petroleum Congress and Exhibition (CAPE VI) which was organized by the African Petroluem Producers Association (APPA) in the Federal Capital.
President Buhari who was represented at the occasion by his Vice, Professor Yemi Osinbajo, identified some of the companies adding the most value to the Nigerian economy through their ingenious investment as GE, Dangote Group, Ladol shipyard, and Samsung, among others.
According to the president, African countries should develop ingenious ways of promoting value addition and investment through sustainable policies in local content.
He added: 'A common approach to local content will ensure that the whole of Africa benefits from economies of scale associated with our vast resources.'
The president also noted that Nigeria which recently announced a new timeline to end gas flaring at her oil fields was on course to see this out.

'The use of gas in Africa's future energy mix has become imperative. If Africa must meet her future energy needs, the issue of the development of a robust gas infrastructure must be jointly addressed.

'In processing Africa's hydrocarbon resource, environmental issues must be accorded huge priority. Globally, over 150 billion cubic meters of associated gas is flared annually, of this figure, Africa flares an estimated 40 billion cubic meters annually.

'In Nigeria, gas flaring amounts to about 23 billion cubic meters per annum in over 100 flare sites constituting over 13 per cent of global gas flaring,' he explained.

The president added that: 'Nigeria is a member of the World Bank Global Gas Flaring Reduction (GCFR) Partnership and with the support of our legislature, we will sign the United Nations Agreement of 'Zero Routine Flaring by 2030' although our national target is 2020.

'I urge all APPA member countries to set realistic targets for gas flare-out in the region.'

Buhari also tasked African oil producing countries on developing local capacities to match Africa's desire to beneficially use her oil resources.

Also speaking on the sidelines of the meeting, the Minister of State for Petroleum Resources, Dr. Ibe Kachikwu, stated that the conference offered African oil producers the opportunity to look deeper into their challenges and come up with realistic solutions.

Kachikwu noted that amongst the continent's producers' challenges in mining oil, funding operations remains the most. He said in this regard: 'It is a new dawn for Africa and we are excited about the development. We will continue to work collaboratively because there is a lot happening in the space but also a lot of challenges that we have to overcome.

He stated: 'The major challenge is funding. Obviously skillsets are there already and technology is not an issue but funding remains key. "Policies are also key because African governments have to develop policies that will enable backward integration into their own systems.'