Wike: Chief Security Officer, 8 Months And Counting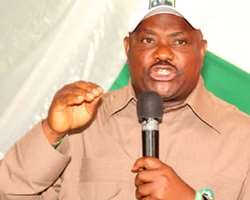 In the corporate world, a Chief Security Officer (CSO) is a corporation's top executive who is responsible for security of personnel, physical assets and information in both physical and digital form. A governor is the Chief Security Officer of a state and is solely responsible for the protection of lives and properties of citizens irrespective of faith, political affiliation, or race, as affirmed in the oath of office. The constitution of Nigeria clearly spells out that security is the highest duty of a state governor.
Welcome to Rivers State. Whether surface or deep, a study of Governor Nyesom Wike's administration so far shows a total collapse of security since he assumed office. Kidnapping, political killings, malice, and other ills have enveloped the oil rich state. No day goes by without the disturbing stories of murder, arson, armed robberies and random violence everywhere in the state. The list is endless.
The worst part of the raging security predicament in Rivers State, is the unfortunate vocal and body language of the Governor. It is true that some Nigerian politicians need the support of the good, the bad, and the ugly to get into office, but having gotten into office, all elected government officials are expected to separate politics from governance as much as possible.
But unfortunately, this governor is still talking and acting as though he is the governor of 'PDP members alone. No! We expect Chief Wike, as a son of the soil, to stamp his foot on the ground and put an end to the political killings in Rivers State. Security is not nuclear science, I can bet a million bucks that Wike knows what to do, all he needs is political will.
Another troubling development in the state is the disrespectful manner with which Governor Nyesom Wike addresses slain Rivers indigenes. In one setting he declared that those who are being slain in the state are not prominent politicians, and that he wondered why. In another event, the Ikwerre born governor publicly asserted that the death toll so far comprises of only members of rival cult groups. He even mentioned names of the warring cults in the state.
So what's next? Those who had the opportunity to attend university will agree with me that cultists are not ghosts. They are humans who eat, drink, and sleep amongst us. If the governor says that those being killed are members of rival cult groups, the question that looms large is thus: are members of rival cult groups permitted to kill each other by law? Should the killers and the killed not be properly identified before they are victimised by government? Is Franklin Obi, the APC leader who was beheaded alongside his wife and children a cultist? Which cult did he belong to?
The governor's handlers, that is if at all they are capable professionals who can attract few minutes of their master's time, must as a matter of urgency advice him to desist from the above line of presentation if he ever wants Rivers people, Nigerians, and members of the international community to ever take him and his government seriously. It is sad enough that people are being murdered unabated under Wike's watch, it is even more saddening that the governor is in so much haste to tag our butchered brothers and sisters as gangsters.
What Governor Wike must understand is this: irrespective of the controversial manner through which he climbed unto the governorship seat of Rivers State, he still has the opportunity to remedy himself. The governor can decide to completely disassociate himself from criminals and good for nothing elements, accord respect to the dead in his speech and deed, whether APC or PDP, and concentrate more on gathering proper security intelligence before making public speeches. In so doing, he will quash the trending impression that he is aiding and abating criminality in the land.
Mr Wike, Chief Security Officer of Rivers State, it is eight months and counting.
~ Solomon Okocha is the Spokesman, The Patriots Alliance (TPA).