Edo Guber: Group Rally Support for Obaseki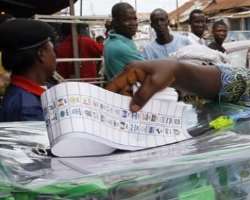 Ahead of the 2016 governorship election in Edo State, the Edo Core Group Abuja Chapter comprises of all ethnic nationalities and political class in Edo, has thrown their full support for Mr. Godwin Obaseki to take over the mantle of leadership from the performing Comrade Adams Oshiomhole. The Abuja chapter of the group which held their meeting at Hilton yesterday also used the occasion to prevail on the leadership of the All Progressive Congress (APC) to present Godwin Obaseki as the candidate for the 2016 Governorship election in Edo State.
According to the group, the decision to support Godwin Obaseki was born out of his diligent, dedication and commitment to the task that was assigned to him by the comrade governor as the chairman of the state economic team. He knows the tarring; Obaseki is not ignorant about the challenges and strength of his people.
Edo State needs a successor who knows and understood the vision, direction and focuses of the Oshiomhole administration. As a consummate politician, a team player and broad minded urbane politician with a commendable electoral value and flames of passion for the less privilege in the society, the choice of Godwin Obaseki as the APC candidate will help to consolidate on the current achievement of the performing governor and former National Labour Leader.
The President and National Leader of the group comrade Philip Alimikhena who spoke during a solidarity support in Abuja insist that there is no going back in the decision of ensuring that Edo State will produce a performing successor that will build on the legacies of the incumbent governor.
Alimikhena who is also a student union leader stress that the governorship position should not be viewed as a political compensation saying that the collective support for Obaseki is due to his leadership initiative and supportive contribution to the development of youth movement in Edo and his untiring commitment across the nation. Godwin Obaseki has over the years identified himself with Nigerian students struggle by associating with the programmers of union and prevailing on authorities to field to the demands of students wherever he is called upon. Such a personality will be better for the Nigerian youth and all Edo students.
As a pragmatic and visionary Nigerian, we applaud the social transformation agenda of Obaseki as chairman of the state economic team. We are not unmindful of the criticism that may trail our stand. As a body we challenge whoever is displeased by the decision of the core group to come out openly in a debate of comparison in giving focus and directional leadership. The Edo Core Group has therefore given a mandate to the Obaseki consolidation Vanguard to immediately map out plans to commence the door to door advocacy for the overall interest of our people in due season.
Benjamin Atu
08038847596