Kcee Change A Single Life For Better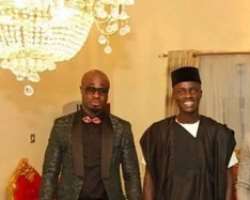 Singer, Kcee and his brother E-money, will be so pleased to see that they have been able to change a single life for the better.
It will be recalled that the singer will making an advert for his telecom brand had come in contact with a shoe rack seller, Promise, and they became friends instantly until the singer along with his brother gave him a surprise package on E-Money's birthday.
Promise was given some amount of money and a brand new car while he was also taken off the street to become a family with Five Star records.
Recently, Kcee had shared a picture of Promise transformation as he is now dressed in the popular Agbada outfit which is almost becoming the fashion style in the Five Star family.
"It is the greatest of all mistakes to do nothing because you can only do little, do the little you can. With my new friend Promise at the five Star mansion some days back. Do you remember him?" Kcee queried.