NCC Chief, Danbatta, extols Hajiya Ganduje's virtue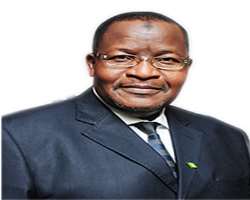 The Executive Vice Chairman of the Nigerian Communications Commission (NCC), Professor Umar Garba Danbatta, has described the death of Hajiya Fadimatu Umar Ganduje, the late of mother of Kano State Governor, Dr Abdullahi Umar Ganduje, as a loss of strong pillar of support for Kano people.
Danbatta, who was in Kano at the weekend to condole with the governor, however, noted that Hajiya Fadimatu should be celebrated, given her contributions and accomplishments.
In a letter he personally presented to the governor at his hometown, Ganduje,  Danbatta urged the bereaved to find solace and inspiration in the meaningful  life she lived.
"The death of a mother who was a pillar of support to her family and community, is a painful experience.
"However, given Mama's achievements, her passage is not only a celebration of life, but the transition of a matriarch, who was a source of inspiration to her generation, and a reflection of values of discipline, humility, piety, honesty and diligence, which are, no doubt, characterised in the lives of your good self and your siblings," he pointed out.
Continuing,  Danbatta said: "Mama's remarkable years of service to Allah and humanity, her leadership legacies and other private endeavours moulded an icon whose life and commitment to society made an irrefutable impact on her family,  and the community she served".