This Day Chairman Onaigbena reads riot act to staff as banks pay him N2b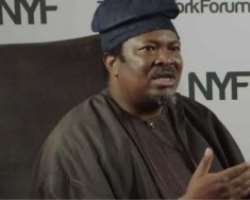 The Chairman and Editor-in-Chief of THISDAY Media Group/ARISE TV Networks, Nduka Obaigbena, has rolled out new rules of engagement for the staff of his newspaper.
The new rules of engagement was contained in a memo Obaigbena sent to the staff over the weekend and obtained by The Eagle Online.
Obaigbena, who is owing the staff between 11 months and 14 months salary, has in recent times been taking decisions and actions many of the staff have said is targeted towards not paying them their outstanding remunerations.
One of such is the continuous taking of attendance of staff.
In a memo attached to one of the attendance lists, published by The Eagle Online, Obaigbena directed the Accounts Department not to pay those whose names were not on the list.
However, between then and now and despite the directive by Obaigbena that the Accounts Department should pay those on the list the salary for February and one of the outstanding months, no one has been paid.
The Eagle Online also gathered that some banks have paid Obaigbena over N2 billion as upfront payment for their advertisements for 2016.
The new generation banks, it was gathered, are in the habit of making the payment upfront.
However, instead of paying the staff of ThisDay, Obaigbena has gone ahead to resuscitate his UK-based Arise Television.
The outfit also has a major office in the United States of America.
The station was shut down following the inability of Obaigbena to meet up with its financial demands.
Some of the staff even dragged him to court for owing them salaries.
Some companies that have been supplying materials to the television station have also threatened court action.
Despite his indebtedness to the staff of ThisDay, Obaigbena over the weekend rolled out new rules of engagement for the staff.
The memo, unedited, reads in full:
Dear Team THISDAY:
This is to confirm MANDATORY MEETINGS FOR ALL STAFF as follows:
1. Advertising and Marketing Divisional Meetings ( All marketers and sales agents must attend) : 09:00 – EVERY DAY Monday to Fridays;
2. FULL Editorial Meeting – in Lagos and Abuja : ALL Editorial Staff in Lagos and Abuja including Editors must attend – 11:00 EVERY DAY Monday to Fridays.
Journalist are required not to book and or accept appointments before 1PM everyday. If you are to cover a scheduled assignment OR meet up an important appointment, you are required to submit your request for a written approval by email -complete with evidence – for exemption form the daily meetings at least 24 hours earlier. ( verbal approvals will not be accepted);
3. LINE Editors Meting- ( ALL Line Editors must attend) 4PM EVERY DAY – Monday to Friday;
4. Digital Division Meeting: – Must be attended by all staff of the newly formed Digital Division.- 12 Noon Mondays – Fridays;
4. Operations Services Meeting – must be attended by all unit heads of all operations and services departments: -circulation, printing, pre-press; transport & logistics, maintenance, procurement, finance and administration. 2PM Monday to Friday;
5. Senior Management Meetings: 12 Noon every Monday;
6. Board Of Directors Exco Meetings – First Tuesday every month.
POLICY ANNOUNCEMENTS:
1. The Editorial Building will now open at 7AM and Close at 10PM every day except for the Night Editors and team as well as the Digital Team on night duty. Every journalist is required to close, submit final copy and go home at 9PM every day, except for days with LATE BREAKING NEWS. Page planners are required to complete their work by 10PM every day, except for LATE BREAKING NEWS. The building will be restricted at 11 PM. A new staff bus will depart the premises at 9PM. NO LOITERING WILL BE PERMITTED ANY LONGER.
2. PRINTERS AND NON-EDITORIAL STAFF WILL NO LONGER BE ALLOWED INTO THE EDITORIAL BUILDING EXCEPT FOR THEIR MANAGERS ON ASSIGNMENT.
3. The Staff Canteen will be open from tomorrow for all socialising.
4. Visitors will now be strictly restricted. Any new policy on visitors will be announced soon.
5. Please note that these staff meetings beginning tomorrow March 14, 2016 are mandatory and compulsory ( emphasis mine). Absentees will have their appointments terminated. You have been warned. It is time to take back the company for the welfare and benefit of every one. If you have other (employment) commitments elsewhere and or conflicts of interest, you must resign honourably. Divided loyalty will no longer be condoned.
Very many thanks!
Nduka Obaigbena
Chairman & Editor-in-Chief
THISDAY Media Group / ARISE TV Networks
Level C, 885 2nd Avenue, New York NY 10017
Ground Floor, 80 Haymarket London SW1 Y4TQ
35 Creek Road Apapa, Lagos
www.thisdaylive.com www.arise.tv
Eagleonline