Nickelodeon Kids' Choice Award Names Bella Naija Founder Uche Pedro 'Africa's Best Blogger'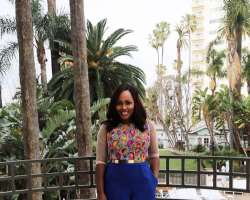 Lagos|Nigeria,:Uche Pedro, Adele, Jennifer Lawrence, Justin Bieber, Sofia Vergara, Will Ferrell, Amy Poehler, Zendaya,The Voice, SpongeBob SquarePants, Fifth Harmony and more were among those who won coveted orange blimps at Nickelodeon's 2016 Kids' Choice Awards (KCAs) on Saturday 12 March. Hosted by country music superstar and coach onTheVoice, Blake Shelton, the awards were broadcast from the "Fabulous" Forum in Inglewood, California, as kids from all over the world celebrated the best of everything they love in pop culture.
The Nickelodeon Kids' Choice Awardspremieres on Nickelodeon (DStv channel 305) and Nicktoons (DStv channel 308) at16:30 CAT on Wednesday 16 March 2016.
Nigerian entertainment blogger and media star Uche Pedro, founder of Bella Najia, won the "Best Blogger – Africa" category at the awards. Uche beat fellow bloggers Sylvia Kamau("Style by Sylvia" - Kenya),Aisha Baker ("Baked the Blog" - South Africa)andTheodora Lee ("Theodora Lee" - South Africa)to take home a coveted KCA 'blimp' trophy. Uche and her fellow nomineesSylvia, Aisha and Theodora flew into the US a few days ago to attend the star-studded event.
Commented Uche Pedro, "Wow! This is such an amazing moment for me and the BellaNaija brand.
Thank you to my husband Bode, our wonderful children and our families. BellaNaijariansand BellaNaijateam - we made it! Thank you for all the votes and positive vibes. Thanks Nickelodeonfor the opportunity and to my fellow nominees, you are an inspiration! To everyone out there with a dream, this is a testimony to never give up, be a rebel with a purpose and vision."
This year's festivities kicked off with Shelton getting hosting pep talks from celebrity friends including Adam Levine, Pharrell Williams, Nick Jonas, Selena Gomez, Chewbacca and BB-8. After being alerted that the Stormtroopers were trying to take over the 2016 Kids' Choice Awards,Shelton jumped into action and battled his way onto the show stage via a super-charged chair from The Voice.
During the show, singer-songwriter Charlie Puth and hip-hop star Wiz Khalifaperformed a medley of "One Call Away" and "See You Again", right before taking home the blimp for "Favourite Collaboration". Rapper Silento appeared the night of Kids' Choice Awards to sing his mega-hit "Watch Me (Whip/Nae Nae)," and DNCE closed the show with a performance of their chart-topping single "Cake by the Ocean" that culminated with an ultimate slime dousing of the audience.
The 2016 Kids' Choice Awardsproved to be a mega slime fest, from kids in the audience awardingShelton with an epic finale sliming, to Jace Normandumping a bucket of green goo on John Stamos, toFifth Harmonygetting drenched after their win for Favourite Music Group, and Shelton welcoming Jason Sudeikis and Josh Gad to the green side.
This year's show put the power of choice in the hands of kids at home with an interactive digital experience like never before. Kids had the opportunity to choose what happened live during the show by casting votes to see four different outrageous moments play out: Shelton and Normanpranking DNCE with toilet paper in their dressing room; CameronDallasgetting super soaked in slime; Shelton donning a unicorn outfit; and the stage environment changing to underwater.
Additional celebrities in attendance included:Robert Downey Jr., Amy Poehler, Rob Gronkowski, Ellen DeGeneres, Chris Evans, Meghan Trainor, Fifth Harmony, Heidi Klum, Keke Palmer, Anthony Anderson, John Stamos, Chloe Bennet, Buddy Valastro, Sarah Hyland, Dove Cameron, Grant Gustin, Laura Marano, Zendaya, Will Arnett, Debby Ryan, and cast members fromDance Moms, plus stars ofNick's hit seriesGame Shakers (Kel Mitchell, Benjamin Flores Jr., Cree Cicchino, Madisyn Shipman, Thomas Kuc) andThe Thundermans (Jack Griffo, Kira Kosarin).
In addition to the live votes, Nick's digital platforms offered games and exclusive real-time updates with photos and videos from the Orange Carpet and backstage. From Facebook to Snapchat and everything in between, Nickelodeon'ssocial channels captured all of the best snaps, memes, GIFs, videos and pics from the night.
Please see below for a full list ofNickelodeon's 2016 Kids' Choice Awardswinners:
BLOG
Best Blogger – Africa
Uche Pedro (Bella Naija – Nigeria)
TELEVISON:
Favourite TV Show
The Thundermans
Favourite Family TV Show
The Muppets
Favourite Male TV Star – Kids' Show
Ross Lynch – Austin Moon, Austin & Ally
Favourite Male TV Star – Family Show
Jim Parsons – Sheldon Cooper, The Big Bang Theory
Favourite Female TV Star – Kids' Show
Zendaya – K.C. Cooper, K.C. Undercover
Favourite Female TV Star – Family Show
Sofia Vergara – Gloria Delgado-Pritchett, Modern Family
Favourite Talent Competition Show
The Voice
Favourite Cooking Show
Cake Boss
Favourite Cartoon
SpongeBob SquarePants
FILM:
Favourite Movie
Star Wars: The Force Awakens
Favourite Movie Actor
Will Ferrell – Brad Whitaker, Daddy's Home
Favourite Movie Actress
Jennifer Lawrence – Katniss Everdeen, The Hunger Games: Mockingjay, Part 2
Favourite Animated Movie
Hotel Transylvania 2
Favourite Voice From an Animated Movie
Amy Poehler – Joy, Inside Out
MUSIC:
Favourite Music Group
Fifth Harmony
Favourite Male Singer
Justin Bieber
Favourite Female Singer
Ariana Grande
Favourite Song Of The Year
Hello – Adele
Favourite New Artist
Shawn Mendes
Favourite Collaboration
See You Again – Wiz Khalifa feat. Charlie Puth
OTHER CATEGORIES:
Favourite Book
Diary of a Wimpy Kid series
Favourite Video Game
Just Dance 2016
ABOUT THE 2015 KIDS' CHOICE AWARDS
The 2016 Kids' Choice Awards will be seen in more than 180 countries and territories around the globe. Within hours of airing live in the United States, Canada and Australia, the show will roll out in internationally giving kids around the world the opportunity to tune into their local Nickelodeon channel to enjoy the show. In many international markets, the 2016 KCAs will featured country-specific award categories and nominees such as Best Blogger – Africa, UK's Favourite Tipster, and Estrella Latina Favorita (Favourite Latin Artist). Voting spanned six continents across local Nickelodeon websites and Twitter hashtag voting (#KCA), giving kids practically everywhere the chance to decide who takes home a coveted blimp.
ABOUT NICKELODEON
Nickelodeon, now in its 36th year, is the number-one entertainment brand for kids. It has built a diverse, global business by putting kids first in everything it does. The company includes television programming and production in the United States and around the world, plus consumer products, online, recreation, books and feature films. Nickelodeon's U.S. television network is seen in more than 90 million households and has been the number-one-rated basic cable network for 20 consecutive years. For more information or artwork, visit http://www.nickpress.com . Nickelodeon and all related titles, characters and logos are trademarks of Viacom Inc. (NASDAQ: VIA, VIAB).