David Mark escapes gun attack by Fulani herdsmen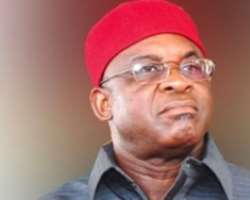 Fulani herdsmen on Friday shot at the convoy of former Nigerian senate president during a visit to ascertain the amount of damage meted on Agatu Local Government Area by the herdsmen..
Over 50 residents of Agatu were reportedly killed by Fulani herdsmen who claimed that the people of Agatu killed about 10,000 cows.
Mark on the visit was accompanied by ex-minister of Interior, Abba Moro; a member of the state House of Representatives representing the Ohimini/Otukpo, Hon. Ezekiel Adaji; security aides, journalists and supporters was shot at by fleeing herdsmen.
According to reports, Mark's security detail were restrained from firing back as the assionists fled the scene.
Undetered by the reckless action of the herdsmen, Mark continued his on-the-spot assessment of Aila, Akwu, Okokolo, Adagbo, Akwu, Ogboju and Odugbeho, all communities destroyed by the Fulani herdsmen.
In his address to some of the survivors, Mark expressed shock at the unimaginable destruction that had occurred while urging survivors to remain calm.
-Emmanuel Ikechukwu