Ubi Franklin Made up Stories That I was Dating Him- Emma Nyra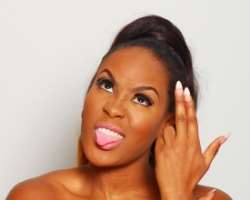 The former first lady of MMMG, Emma Nyra does not want to talk about married man, Ubi Franklin, her former manger because she said that she actually wasn't in a relationship with Ubi. He made all that story up.
On her progress: "I recently released a single titled For My Matter remix featuring Patoranking. The video has garnered over 100,000 views on YouTube in less than a week and I am very glad about that. I also took a year off to rebrand. I am also working with more female artistes and there are different sides to me that people have not seen. My album will be ready for release in late 2016.
About asking for money on her website , 'I have a Foundation called Nyra Phoenix Foundation and it's mainly for children that I work with. That's where the money goes to. I really love children a lot, and I felt like there was a need to do more because a lot of them just get food donations, and not monetary donations which they really need to buy some material things.'
Lessons after leaving MMMG: "I learnt to focus and not really trust what I hear. I have learnt to take everything I am being told by sight and keep my faith in God because He is the only one who actually has my back. Even if I hear something, I don't react just like that and I also stay away from drama. If I sense that a situation might likely lead to a confrontation, I simply avoid it.