Youth corps members, reliable agents of community service – Agbo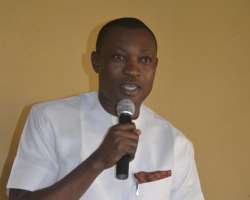 Members of the National Youth Service Corps (NYSC) have been described as reliable agents of community service and development that continuously work hard to improve the lots of the communities they were deployed for their primary assignments.
The Chairman of Igbo Etiti Local Government Area in Enugu State, Hon. Malachy Agbo, stated this at Ogbede, the council headquarters, during a quiz competition organized by the local government in conjunction with the members of Igbo Etiti zonal directorate of the National Youth Service Corps for secondary schools in the area.
Agbo, who was a special guest at the occasion, praised the corps members for their dedication and committment to the service of fatherland in general and development of the local government in particular.
He said there was no better contribution to any community than the development of education and intellectual well-being of its young people, as in the case with the quiz competition.
Agbo therefore urged the student participants to avail themselves of the opportunities the presence of the corps members offer as a very reliable pool of human capita development.
He said 'I was once like you. And if I can stand before you today as the Chairman of this local government, it is possible that you can become the President of this country. But you have to work hard. You have to pursue your dreams and be God-fearing'.

On her part, the NYSC Igbo Etiti Zonal Director, Mrs Effiom Uyu thanked the Chairman for identifying with them, adding that his support as evidenced by his presence would always boost their morale to do more for the communities.

The corps members Community Liaison Officer (CLO), Mr. Solomon Agor pledged their total dedication to serve the people of Igbo Etiti as they were prepared to make more sacrifices in many other areas their contributions were needed. He said the quiz was one in the series of many planned for the students of the area.

In all, eleven schools, each represented by two students, participated in the competition.

At the end St. James Girls College, Aku, emerged winner, beating Community Secondary School, Ozalla, and I.S.S. Ikolo, to the second and third positions respectively.