The Exceeding Grace of Bishop Isaac Idahosa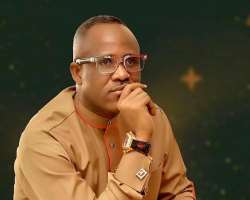 "Everyone can rise above their circumstances and achieve success if they are dedicated to and if passionate about what they do"-Nelson Mandela, Former South African President
Bishop (Dr) Isaac Idahosa, the General Overseer of Godfirst Ministries International popularly known as "Illumination Assembly "is fast-becoming a role model to the new generational pastors in Nigeria and abroad.
His meteoric rise in ministry and speaking engagements never started today. Having been in ministry for over 20 years and 51 years of age, he has able to pass through hard times and never gave up his calling in life. One thing that keeps Bishop Isaac Idahosa growing in God's kingdom is grace and media.
Many ministers of God are yet to take advantage of the media while Idahosa spends millions of naira to showcase God's work. Apart from grace and supernatural anointing, these ministers of God like Bishop Leonard Umunna,Tunde Bakare,Dr.D.K Olukoya,Pastor Enoch Adeboye,Sam Adeyemi,David Oyedepo and host of others would not have been known in Nigeria and abroad if not media presence.
His exceeding grace is growing wide not that Bishop Isaac Idahosa is the best pastor on earth but humility, simplicity and integrity has paved way for him over the years. He picks both known and unknown calls without protocols and ready to respect the authority of God. Bishop Isaac Idahosa is using this year to plant more branches of Godfirst Ministries International across Nigeria and abroad.
As a minister of God with taste, he knows that sowing good seed for God attracts blessings and protection in one's life. He is gradually building a legendary anointing among the new generational pastors and also answerable to old mentors in ministry.Korod Kintz says "There's no reason to not be humble, because as great as you may be, you can always be greater". For any pastor to emulate the good works of Bishop Isaac Idahosa, it means such servant of God must be ready to be humble in life. He remains one of the sought-after preachers in Nigeria using his calling to liberate souls for Christ.
Godday Odidi
Social Media Analyst
08058124798
Lagos
Disclaimer:

"The views/contents expressed in this article are the sole responsibility of the author(s) and do not necessarily reflect those of The Nigerian Voice. The Nigerian Voice will not be responsible or liable for any inaccurate or incorrect statements contained in this article."
Articles by Godday Odidi