Oronsaye: Group Condemns Illegal Detention By EFCC, Demands Immediate Release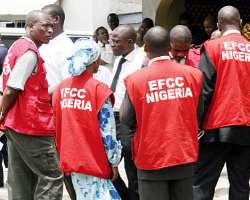 A Coalition of Human Rights groups under the aegis of Human Rights Defense Network in Nigeria has condemned what it described as continued illegal detention of former Head of Service of the Federation, Mr. Steve Oronsaye by the Economic and Financial Crimes Commission (EFCC), over an alleged N240m fraud.
In a Press Statement signed by the National Coordinator of the group, comrade Prosper Robinson and made available to newsmen, he argued that EFCC's continued illegal detention of Mr. Oronsaye for about five days amounts to impunity and gross violation of his fundamental human rights.
He therefore demanded for his immediate release by the anti-graft agency.
Continuing, he frowned at the refusal of relevant Law enforcement agencies to arrest for questioning, immediate past Chairman of the EFCC, Ibrahim Lamorde over an alleged diversion of more than 2trillion Naira recovered loot.
According to him, Lamorde's refusal to honour the invitation of the Senate on the matter suggests that he is above the laws of the land and should not be condoned.
"Mr. Oronsaye was invited by the EFCC and he honoured the invitation and since then, they detained him and refused to let him go. We are aware that he has fulfilled all the bail conditions, as requested by the Commission, but they have still refused to let him go. Mr. Oronsaye is already being prosecuted by the EFCC and the trial is moving smoothly.
...This latest twist is suggestive of gross impunity and flagrant abuse of process. They should release the man immediately and allow him appear in Court for trial whenever they are ready. It is wrong to want to detain a fellow citizen in perpetuity over allegations when you are not through with investigations."
Continuing, Robinson stressed: "For several months now, former EFCC Chairman, Ibrahim Lamorde has refused to honour an invitation by the Senate to answer charges of criminal diversion of over two trillion Naira recovered loot. Nobody has taken any step to bring him to justice, even after a Warrant of arrest was issued on him. Is he above the law? Why arrest and detain some in perpetuity, for allegations of smaller offences while those accused of more heinous crimes against the masses are allowed to walk the streets freely. It shows injustice. It is impunity. It is most unfair," he stressed.