Ekiti 2018: Bimbo Daramola Identifies Quality Education, Portable Water  As Key Priorities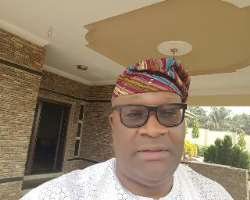 Being part of build up to Ekiti state governorship poll meant to hold in 2018, the people of Ekiti are now exhibiting political consciousness by the day. Citizens are breaking communication barriers and using every opportunity open to them to ask questions from those jostling for the number one political seat in the state.
One man who is not spared in the fray is former member of House of Representatives who represented Ekiti North Federal Constituency 1, Hon. Bimbo Daramola. He has been described as a frontline aspirant for All Progressives Congress (APC) and widely publicised as preferred choice of the youth in the state.
Recently on the social media, precisely on facebook, a young Ekiti lady by the name Daramola Temilola Oshin privately asked Bimbo Daramola on how he could tackle decline in Education quality and dearth of portable water in the state.
According to Temilola, ''Sir what is your plan for the people of Ekiti in the area of Water and Education because I could remember during Adebayo the people of Ekiti are enjoying good and drinkable water?''
While reacting to Temilola Oshin's question on facebook, Daramola said, ''I deem it expedient to answer her because I believe these are the critical issues that should determine what we do next with our choice of leadership for our state, besides I'm gratified that our young people are beginning to understand that there are critical issues to be placed on the front burner beyond momentary tokenism that has brought us to thus postrate state. So thank you Ms Daramola Temilola Oshin.''
He further explained why it became necessary for him to share the message openly. In Daramola's view, his candid response will inspire younger generation and reassure them that hope is not lost; ''I'll share the answer I gave you to inspire the younger people to begin to situate their future in the quality of the next leadership recruitment process.'' Daramola said
Addressing the question directly, the former federal parliamentarian said:
''Those are priorities for any good government to ensure. As a geologist who has worked on 400 borehole projects in Kaduna State and 74 alternate water sources harvesting in Enugu and Anambra States, I know how to look for water and harvest it.''
On the challenge faced by the citizenry of school age in the Education sector, Congressman said, ''Education remains a dear sector to me, because I know it's the greatest legacy that can secure the future of a people and society. I'll change the curriculum and make it more functional to make whoever goes through our education system becomes self sufficient and self reliant. The days of carrying certificates that cannot help create gainful employment will be over. It's a knowledge driven world now. Mark Zuckerberg does not have a factory, yet he is one of the richest in the world. My vision is education for the total man. God bless Ekiti.'' Daramola declared.