AT 50, MY ONLY UNFULFILLED DREAM IS BEING PRESIDENT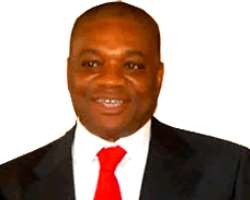 Dr. Orji Uzor Kalu
Former Abia State governor, Dr Orji Uzor Kalu clocks 50 today. And some days to the landmark event, the enigmatic politician-cum-businessman fielded questions from a team of journalists from Sun, including TONY ONYIMA (Managing Director/Editor-in-Chief), FEMI ADESINA (Deputy Managing Director/Deputy Editor-in-Chief) ERIC OSAGIE (Executive Director, Special Services) and SEYE OJO (Staff Correspondent).
It was a frank and downright factual Kalu who took all questions thrown at him - his life's dreams, life outside power, his businesses, greatest risk he's taken in life, future aspiration, and many others.
There are so many revelations in this interview. His unfulfilled dream? 'Not being president of Nigeria yet.' As a billionaire, does he still pray for money? 'Yes, I pray for prosperity.' And would he ever return to the Peoples Democratic Party (PDP)? 'No, capital no.'
Text of the interview below.
Your Excellency, congratulations on turning 50, how does it feel being 50?
Well, I feel very warm. I feel very good. But turning 50 is one thing, feeling fulfilled is another thing and I have a strong feeling that I'm not yet fulfilled. I believe that nobody will call me a young man any longer. Now, I have started the real march for an elderly man and in any society where I go now, people will see me as an elder.
Did you prepare for 50 and how did you metamorphose from where you started up till now?
Yes, I have always prayed to God that one day, I would turn 50. And there is nothing other than to thank God that I am turning 50. I also want to hope that I can see when I will turn 70,if God permits.
You said you were not fulfilled, but a lot of people would think otherwise. They would think you should be fulfilled. What then are the frustrations?
No, I am not fulfilled. Seeing the Nigerian situation gives me a lot of problems. Seeing that at 50 years of independence and my own celebration, that we cannot celebrate full light in Nigeria, we cannot celebrate internal security where people can really go to where they like and come to where they like, where people cannot move freely, gives me a lot of problems. At 50, I'm seeing the issue of armed robbery as a major issue; issue of kidnapping, issue of religious and ethnic problems. I think by this period, we should have been able to overgrow these menaces and we are still at square one. Our leaders have not been able to address these issues and nip it properly where it's supposed to be. I believe that these are the kinds of things that could have made me to be fulfilled. I am not yet fulfilled from what I have seen.
From whatever angle one looks at it, you have made a success of your life at 50. Nigeria is not a successful nation from what you are saying, what mistake did Nigeria make that made it a dwarf at 50?
Well, within the context of Nigerian polity, I think both leadership and followers have been lying to themselves. Nobody is interested in the polity called Nigeria. Nobody is interested in how things can be for the general society. People are only interested in what they can get from Nigeria. People that think they own money, they own assets, they own cash, they own cars, these things do not belong to them. It belongs to vanity and life itself is vanity upon vanity. If both the leaders and those being led should realise that we come to this world with nothing, we'll go back with nothing, they would be able to realise that we can handle the society better than it is today.
What did you do right? What are the tips to success so that other people can learn from you?
Secret of my success has always been the people. I am driven by the people and honesty. I am driven by following those who taught me how to do things that are right or things that I feel are fulfilling. You can always see that all the men that were instrumental to my success, I'm still with them and I can't leave them.
So, you'll see those are the things; support is the answer. Nigeria and Nigerian people are not being supported. You can see people take this country for a ride.
Who are the people that have touched your life that at 50 you want to pay tribute to?
Well, always I have to pay tribute to people like Jibril Aminu, and people like Ibrahim Babangida. In my little area where I come from, I'll pay tribute to my cousin, Commodore Amadi Ikwechegh (former governor of old Imo State). When you want to look at disciplinarians, people who are very disciplined, I look at people like Commodore Ebitu Ukiwe (the first Chief of General Staff in General Ibrahim Badamasi Babangida's regime). He's disciplined, he might not agree with many people but he can stand firm. If he hates something, he hates it. If he likes it, he likes it.
So, people must be able to be seen where they stand, no matter whether you are standing on the right or not. These are traits people should start developing. So, I pay tribute to all these people. You have another Admiral where I come from, Rear Admiral Ndubuisi Kanu. You will see he stands firm on whatever he believes in. When they were doing NADECO, he was a NADECO member. When they are doing anything, he stands firm and says no, this is what I like to see.
So, life is all about people standing where they are supposed to stand. I am not saying people should be hardliners. I am not saying people should not know when to stop. I am not saying people should be adamant in what they believe in. But I'm saying that people should be able to re-think and stand for something and say no, we don't want this or yes, we want this.
Nobody in Africa?
Oh! A lot of people who have stood firm in Africa, they are many. Many people who stood very firm in Africa like the former president of Mozambique, Joaquim Chissano, who won Mo Ibrahim Prize for Achievement in African Leadership. If you think about leaders like that, you can see that they have been able to give something to the society.
I don't want to talk about people like Nelson Mandela, it has been over-flogged. South Africa is a very lucky country because they got Mandela to bring unity. They brought Thabo Mbeki to start developing the economy, and they brought Jacob Zuma to deploy back what is due to South Africans.
So, you can see they have passed through stages. One leader was there to unify the country for whites and the blacks, to unify everybody from religions, from tongues, from everything. That was the duty of Mandela. Mandela wasn't there to talk about economy. He was there as a symbol of unity, which he did.
Secondly, former President Thabo Mbeki came to talk about economic development ,on how they have to put things into the next level and he did it. Now Zuma is there to create a domestic wealth within South Africans and say yes, we have done it. I think it can also be part of us, and part of our own. These are things these people were able to do.
I think any God-fearing human being that is living on this earth should be able to know that South Africa has passed these stages and these are stages of life people have.
Your Excellency, even now you have identified that leadership is our major problem, but Nigerians always say that people like you are or were still part of our leadership. Are you indicting yourself?
Yes, of course. I am saying for everybody, not only me. I am being frank. Whatever I should tell you at 50 is from the heart. I am saying it is a collective failure by everybody. I am not going to spare anybody. I am not going to say I have done better than this person or I have not done better. This is not time to play. This is time for us, honestly, to collectively agree that we have failed and we will now need to plan for a new beginning; a new beginning of giving new life to the people. Nigerians need a new beginning and this new beginning is one that can heal wounds. This is a new beginning that can heal our economy. This is a new beginning that can heal faith in our country. We need a cultural and value re-orientation in our country. Unless we bring these things on the table, it is going to be very tough for us to grow.
Apart from leadership, what do you identify as biggest problem of this country?
Value lost. People have lost value from the context called Nigeria, the map called Nigeria. We are not driven by any value. We are not driven by any cultural background. We are not driven by any mindset that this is our country. In 21st century, I still see government and government people asking Nigerian people which state are you from, which local government are you from? There is no love for this country. We need to re-orientate ourselves to bring love for Nigeria, and it is very very important. I think these are things that are going to save us from where we are today.
What were your childhood dreams? What did you really want to be when you were a child?
To be honest with you, God has been very faithful to me. Everything I have dreamt when I was a child, I fulfilled all of them except one, being president of Nigeria. I am sure I can fulfil it. To be honest with you, leadership is something I dreamt of. From my childhood, I had always been an agent of change. I have always been standing or have stood where winds of change blew, from childhood till today. I have always been what I am and who I am, I never changed. So, I think that my dreams, most of them have been fulfilled. I can tell you, my God has never disappointed me in what I wanted to be. So, most of my dreams, I have got 95 per cent completed in life. But the only thing that is not completed is changing the society where we live.
Nigeria needs to change. People in Nigeria need to follow the fast track of change blowing all over the world. People can see presidents like Jerry Rawlings, former president of Ghana. People blamed Rawlings for what he did. No, as far as I am concerned, he's one of the greatest Africans living on earth today. You need to bring discipline. You need to bring forwardness to African people. Today, Ghana is enjoying from the fruits of labour of Rawlings. You might agree with me, you might not agree with me, but Ghana is on the right track.
So, I would like to see Nigeria being on the right track and that is what I am praying to God for. I am asking Nigerian people for us to collectively make this dream a reality because it is important that we come back to the drawing board and see how Nigeria's dream can be our new dream.
Secondly, I will like to sign a new contract with Nigerian people. What will be my contract with Nigerians? Every leader looks like a failure but the courage of a leader to make a decision and carry that decision forward is what Nigeria lacked and that is where I will come in to make sure that I place Nigeria where it is supposed to be.
You've taken so many risks – both in business, personal life and political life. Which was the most dangerous?
One of the greatest risks I took on earth was the fight against third term because former President Olusegun Obasanjo was with everything. He was with government machinery. He was with swords. He was with arrows. He was with gun. He was with everything. But through Almighty God, I was able to scale through, because only few people that challenged Obasanjo are still alive today. So, you can bear me witness whether you are in government or not. He had instrument of power. He had everything. He had the Nigerian Police. He had the Nigerian Army. He had everything when he was president.
So, I thank God that I was able to scale through those trying periods. It was a suicidal mission. I also thank God that Nigerian people won. The larger part of the society won. He was not able to make himself a life president. The most important thing, no matter how good or bad you are, the important thing in a constitutional democracy, is time limit.
. And that is the beauty of constitutional democracy. So, we were able to fight with our lives although people like me, they did not fight me only politically, they fought me economically.
They closed down every good thing that I had. When people said Marc Wabara did this and that it is not true. Marc Wabara (former Managing Director of the defunct Hallmark Bank) was fought on the basis that he didn't disclose to Obasanjo that I held the majority of shares in the Hallmark Bank, which I bought in 1994, many many years before I became governor. And Obasanjo damaged those institutions just because of one soul. He didn't want me to succeed. He damaged the soul of Southgate Bank. He damaged the soul of Slok Airline and the oil bloc that we held.
When I looked at these things, he went personal and it's not good for a leader to have gone that far for a political issue. It's not about me, it's not about what I'll gain, it's all about the other people who worked in Slok Airline, who worked in the Hallmark Bank, who worked in the oil company that could have been drilling today.
So, it's not about me. It's just about the other people who needed this job more than me. So, these are the issues. Whenever we are playing politics, people should not mix politics with business. Don't say I am going to fight you because I have money in my pocket. Whether I have money or not, if people want to follow me, they will follow me, no matter what you do.
But former President Obasanjo thought if he destroyed me economically, that I would not have anything to say any longer. Look, I give God the glory. He's living and I'm living. I pray to God to give him longer life to see what I will be and what I will represent. That is only my prayer and I pray this everyday.
People cannot tell themselves the truth. It is the greatest problem of the society. There are lot of sycophants in the polity called Nigeria. People tell you what you want to hear and this is why I believe nobody, I trust nobody. I only trust what I see. What you show me you are, is what I take, not what you tell me you are. It's only what I see about you that I believe. So, I thank God for a mind like my mind. I thank God for people who think at this stage we would not be able to reach where we are today.
Each time Obasanjo is mentioned, you are so bitter and at the same time you say you are a Christian, is it not time to forgive him and move on?
No, no, no, I am not even bitter. Do I look bitter now? I am just telling you a story of life at 50.
You don't hate him as a person?
I don't hate him. I have forgiven him about what he did to me. I have forgiven him long time ago. I can forgive but I won't forget. It's a recurring decimal in my memory. It has to be in my memory every time that I remember about him, that I talk about him , that I think about him.
I am a committed Christian, very committed, more committed than most people that you see that carry Bible. But I believe in one thing. I believe that I have forgiven him, which is what the Christian doctrine says. But I cannot forget what he did to me.
He took a bank that was close to 110 branches in Nigeria. He took a bank that employed close to 5, 000 Nigerians. Those people are roaming the streets today. He took an airline that employed close to 2, 000 people with 10 Boeing 737-400 aircraft, grounded for years before we left for Gambia.
So, honestly, I am not being dirty. If I see Obasanjo, like I tell one of my big brothers, anytime I see him, I feel sad. He's a man who was at the verge of making history, a man that could have been the greatest man in Africa today. He lost it because of his attitude to leadership. He lost it because of his frame of mind. He lost it because he refused to see tomorrow. This is the greatest of all great men that could have been in Africa but he lost it. So, I don't hate him, I pity him because to me Mandela is very old now, Obasanjo could have stepped into the shoes of Mandela and many people don't trust him. Forget about him being popular, they have no respect for him.
If he dares know what people say at his back, he'll go to his house, he'll not eat for one week. And this is why I respect and adore General Danjuma. Anybody can say what General Danjuma would be or would say. Danjuma has the same kind of belief like I do because General Danjuma doesn't give a damn. He's not interested in talking to Obasanjo because he betrayed the trust of Nigerian people. Obasanjo betrayed the trust of Nigerians.
You can see Obasanjo is behaving as if the civil war was fought for only him. They fought the civil war to keep Nigeria's unity. They fought the civil war to be able to rewrite the history of Nigeria. They fought the civil war to bring oneness under one country to this nation. But Generals like Obasanjo do not realise that it was fought to bring back unity to the country, not to bring hatred, which he's sowing. That war was fought to be able to make one big indivisible Nigeria, where everybody would live happily and make sure that we live comfortably.
If people like Obasanjo preach about corruption, I get worried. As far as I am concerned, if history has to be perfectly written, if people have to say what they know, this man should not be walking the street.
You are known as a wealthy person today, did you ever know poverty?
I was born in a not very rich house, not a poor house. I have never lived where I did not have food to eat. So, to me poverty is in the mind. I have always known that my father has always had two cars - one for himself, one for his wife. So, I have always lived like that. When there was Morris Minor in the 60s and all the rest of that, I have always known that this is how we've lived. My father has always been having one house or two in Aba, nothing large, nothing big. We were not starving but we were not rich. I came from that kind of upbringing and this is why you'll see me spend a lot of time with people that don't have, and I sympathise a lot because I came through almost the same way. So, you can see that it is the same scenario. I have never starved but sometimes there would not be surplus.
You are comfortable with the higher class, with Mandela, the world leaders, and you are comfortable with the downtrodden. Do you see them differently or they are the same people?
As far as I am concerned, the people are the same, the name might differ. I only see their difference between their names. I don't see their difference between what they can do and can't do. I am being honest with you and I have said this time without number and I mean every word I say. I see that all individuals are created by God, but not equally. Some are created to be successful; some are created not to be, but we are all human beings.
My quarrel about the leadership of Nigeria, about the people of Nigeria is simple. I am not saying everybody must be rich. I am saying that even the poorest must have access to good life. He must have access to water to drink. He must have access to railway line. He must have access to education. He must have access to move around. This is my belief while the wealthiest and the richest can go on with their lifestyles. This is what I am saying. I have never said the five fingers are equal. I am only saying there is a way we can develop our society, even the poorest will be happy living as Nigerian like in America. Do you want to tell me there are no more poor people? Do you want to tell me there are no rich people? Do you want to tell me there are no people that are suffering in America? The United States Congress just passed the healthcare bill, which President Obama signed into law. Over 32 million American people have no healthcare, which President Barack Obama has provided for. This is what I said, that we could be able to accommodate more of our brothers.
Out of the 180, 200 million people we have in Nigeria, we can be able to close the gap of making them happy. I am not saying close the gap of making them buy a new car, no. We can be able to close the gap of giving them electricity (power) because once this country has electricity we have everything.
Sir, at 50 would you want to pay tribute to your mother because I know she has had tremendous influence on you?
Yes, really I pay tribute to her everyday because even the mother of Jesus, tributes are paid to her. Anybody who does not want to respect his own mother or her mother is a fool. I pay tribute everyday because it is through somebody's mother you can get the heart of the man. This is why you'll see in Catholic Church, we pray to Holy Mary, to mother of God and you'll see it is a reality. Most men who have neglected their mothers are not successful. People who cherish their mothers are very very successful in whatever they do, whether they are journalists, whether they are printers, whether they are businessmen or anything. They excel in their own fields. So, this is where we are.
So, I really pay tribute to her and my father for brining me up. I admire them and I believe, they can never bury me and I pray at their ripe age, I will bury them and my children will bury me at my own ripe age.
You belong to a class of few people who are billionaires and activists, do you sometimes not worry about losing the economic power like it happened before?
One, we need to talk for the people who have no means to talk. Many Nigerians don't have access to speak like I am speaking today. They don't have the visibility.. So, God has made it that people like me will speak out and that is why I am saying I will not change. People that know me know that I have not changed and I can never change.
I have been an activist from primary school to secondary school, to university and up to this moment. So, I have not changed. It's only sycophants who go around leaders today. Whenever I look at people, I ask of what has changed between 2002 and now when President Obasanjo publicly admired me as action governor of Nigeria. What has changed? Nothing has changed. It is the same person. I have not changed in behaviour. I have not changed in attitude. I have always thought about getting the poor and the rich together to make a better society.
Those who love you love you very passionately and those who hate or dislike you also dislike you passionately. In your own words, who is Orji Kalu?
When you hate me, you hate me passionately and when you like me, you like me passionately. Orji Kalu is an agent of change who God has made. It's either you like me or you hate me.
Is there middle way?
No middle way. This is what I am telling you. I have given you example of people like Commodore Ukiwe, who if they stand here, that is where they are standing. No matter what you give him, no matter what you say about him, you can know where he stands. He can tell you this man is a president, I can never go to him. So, you know that he can't go to him. Note all these sycophants you see, once they are offered something, they would run quickly to take it.
Are you worried about those who hate you?
I am not worried about them. I can never be worried about them but I pray for them because I know I have good plans for Nigerian people. I think well about Nigerian people. I think well about our society. I pray for them. I'm not worried about them. I am not even afraid of death.
You have powerful friends and powerful enemies
Yes, because there are powerful friends and some are powerful enemies and I contain all of them. That is what life is all about. I am not afraid of death. Death should be afraid of me because I don't hate them. I love them and I want to deal with them all the time.
What are the things that can really break you down?
Questioning the unity of Nigeria. It breaks me down all the time because this is a beautiful country. This is a country that all of us need and pray to have, a population that is tremendous, made of intelligent people, made of the good, the bad and the ugly. This is what a country should look like. But whenever people try to question the unity of this country, I get worried. And when I get worried, I genuinely from my heart get worried about it. So, this is when I get worried.
How do you then respond to what Gaddafi has suggested?
You cannot blame Gaddafi. You can also not give him glory. Gaddafi was talking of the point of weakness because he didn't know the fundamental foundation that made the country called Nigeria. He just thinks it's something about north and south. It is not about that. If you break the country, what are you going to do with Muslims that live in my village? What are you going to do with Christians that live in Sokoto or that live in Adamawa? So, that is not the answer, the answer is good leadership where rail line will work, train line will work. Everybody will be able to give his best to his country, Nigeria. Like he, Gaddafi, has provided for his people, Nigeria just needs a leader that can be able to call Nigeria and say I am a Nigerian, not a leader that will say I am Ibo or Hausa or Yoruba or Ijaw. No. This is what we have been having. We need a leader who will say no, I am a Nigerian, everything about the state of origin where I come from, cancel it.
So, you want that to go?
Immediately, it has to go. What I am seeing in my mind, if we achieve it in Nigeria, there will be no cabal, no supporters of any president. The supporters of any president will be the people and his achievements. Nigeria needs a redeemer. Nigeria needs a forthright thing to move.
Babangida was nearer to it when he was president because the beauty about Babangida is he's not afraid of people like me. He gets the best intellectuals to work with him and that is what life is all about. I quarrel when somebody has gone to be a minister or gone to work in a bank or anywhere, he wants to come back and be governor. He wants to come back and be president. Politics is not like that. They have to be groomed on how to be a leader for a long time.
The leaders might not know what to do but ability of a leader is ability to be able to assemble the team to work. People think that leaders are the best professors, they are the best mathematicians. No, it is not true. They're only able to identify the best and work with the best.
I can tell you when I was governor, people were afraid and said how could I work with Onyekwere Ogba, Managing Director of NERFUND (Nigerian Economic Reconstruction Fund). I made him Commissioner for Finance. How could I work with Awa Kalu, a legal luminary (former Attorney-General and Commissioner for Justice in Abia State). These are the qualities of a good leader. You should be able to identify people who can do the work. The quality of leadership in a democratic process is the ability to make decisions, to select the few who will be the thinkers and be able to move the process forward.
You spoke of Nigeria needing a redeemer, a messiah to use your word, is that why you want to be president?
If the Nigerian people give me their trust and if God permits, I can do it. I can do the job better than those who have done it. I believe so. I can do it.
Why should Nigerians give you their trust?
Because I am asking for their trust, other people never asked for their trust. Other people go to rig the election. I am asking for the trust of Nigerian people. If they can give me their trust, they will never regret me having their trust. And I will do whatever it takes to change the history of this country.
You'll meet some people, they say you tried so much in Abia; you'll meet others that say you did nothing.
It's politics. I had less than N1.4 billion from 2004 every month. You can go to Federal Ministry of Finance website, it is there. I had the first billion in November 2004. As a governor, I have free education; children were going to school in Abia without paying. No levy, no payment throughout my eight years. This is the popularity of OUK (Orji Uzor Kalu) in Abia State. Children were going to school, it was difficult to even get house girl because they were all in school. So, I had free education.
The only problem I really know I had with the people was the Ngwa - Aba - Owerri Road, and then the refuse. And I knew what was happening. People were just dumping dirt there to give me a bad name and I accepted it as a will of God. Go and check, apart from Mbakwe, no person has got commitment that I have for our people. They are now realising it that I gave my commitment to them.
There is no governor, including Mbakwe, because Mbakwe borrowed a lot of money. I never borrowed money. I owed no bank before I left as governor. For one day, I never borrowed any money. The only money I borrowed was N2 billion from GTBank in eight years. In eight years, I never borrowed money. I never borrowed from any bank all these time that you see governors, president, everybody borrowing. Because I come from private sector, I have always asked my top aides, if you borrow this money, who would pay back? How are you going to pay? It is difficult for government to borrow without knowing what to do with the money.
I knew what I wanted to do. I knew what I could have done very well but I have no money to do it. I wanted to borrow; I showed President Obasanjo a plan that I've made ready. Abia State could have been living on their own by today, that is the truth, if former President Obasanjo had endorsed that blueprint. We were to build hotels. We were to own airlines. We were to own all kinds of things. But when the president realised that, I never knew that he's such a jealous man, when he realised what I have used it to achieve, he killed it. But I give glory to God and I thank God.
When people talk about me, I ask them, has my lifestyle changed? I lived in Victoria Island before I became governor. I still live in the same house. So, why don't people talk about it? Those are property that Nuhu Ribadu said I built with government money. So, you can see it that they are lies. People don't face the truth. I only have one house in London since I became governor. I bought the house in 1992 and it's there. I registered it in London. The British security knows it. The American security knows it. So, how can a society change with a man that wanted to give commitment to life?
What is your reaction to the case against Nuhu Ribadu under the Code of Conduct Bureau Tribunal that has been withdrawn?
Well, I laughed. I'm sure that they didn't tell Jonathan. If they told Acting President Goodluck Jonathan, then it's a pity, if that is how we are going to start. I think that for a man who did what Nuhu Ribadu had done, he should face the trial. They are not intelligent enough. If I am in their shoes, I would not even agree to withdraw the case. They should go through the process. If they want to exonerate him … he must prove himself.
Do you think we can achieve electoral reforms before 2011 elections, given the shortness of time?
We cannot achieve anything with what I have seen. I praise the senate for passing their own electoral reforms but some major components of the reforms are not there. So, I believe we are not yet serious. They are busy saying, although they might be right, that you can cross-carpet or not cross-carpet, but we are a developing democracy. It is not good for what they are putting there to kill democracy and make the state to be a one-party system.
So, I believe our people are still doing the democracy of the stomach; they are still hungry, they are still talking about what they will eat. They can't take a position because a lot of politicians want patronage from the government. And once your patronage is based on government, you cannot be able to do electoral reforms. So, I believe that we need to go further than what they are doing today.
So what happened in 2007 may happen again?
Yes, but that is left for Nigerian people. There are only two million registered political party members in Nigeria. What happens to the other 148 million? They should be the opposition, not two million. So, 148 million people should be the opposition. If 148 million people gathered together and say we want a change, we'll get a change.
Some of your former friends and colleagues in PDP are returning and there are also talks that once they go, they would woo you back. Are you going back to PDP?
Well, the answer is no. Capital no. I still want to run for president under Progressive Peoples Alliance (PPA). The answer is capital no. I am sure you are looking at me to tell you yes but the answer is capital no.
Is it because Obasanjo is there or what?
It is because PDP has disappointed Nigerian people. I should not be part of that disappointment. Yes, that is the reason.
Your friend, Atiku said so and he's back.
Well, that is Atiku. We don't share the same common ideology. My ideology is different from what they share.
But you were with him before?
No, he's my friend up till tomorrow morning. Personal friend but politics we might not discuss. I can go to his house and eat but he can continue with his PDP ideology and all the rest of them. My ideology is different.
Sir, having run for president, that means you can never be running mate to anybody again or do you think it can happen maybe there are some coalitions and you are given opportunity to be a running mate?
No, no, no. You are not asking that question. If Jubril Aminu wants to run for president tomorrow, I might decide not to run. I might allow him to take the slot. If Ibrahim Babangida wants to run and comes out openly to say he wants to run, I might decide not to run against him.
Out of respect?
Out of respect.
But, can you then be their running mate?
I don't know whether I will want to do or not, it depends on the circumstance that brings that offer.
But people are saying Orji is too strong, and they won't like to have you as their running mate
Why?
You will be too strong a vice president.
But that is what the country needs.
They will be afraid to put you on the ticket
My friend, Bola Tinubu, won't think so. And my friend Atiku won't think so. They know I am a very very very very loyal person. All these men I've called their names, they know I am a very loyal person. It is just that I am courageous to say things people don't want to say. They know I am very loyal, even to you people who are journalists, I am very loyal to you people and that is my life. I am a loyal person but don't play games with me. Tell me what the truth is. Tell me what the name of the game would be on top of the table. Don't lie to me.
When do you envisage to retire from politics and from business?
Well, I think strongly that in the next 15 years. I will be able to retire at 65. I will be able to retire from politics, from business, everything.
Life will be boring, what would you be doing?
There are a lot of works I will be doing. Seeing people, if God gives me life and good health. Seeing people alone will be a lot of job.
Since you left government at Abia, you seem to have a new preoccupation to conquer the business frontiers of West Africa and Africa. Why are you moving into a lot of African countries for businesses?
Yes, even they were there before I became governor. From Kenya to Gambia, we used to sell second-hand clothes. We own small banks and insurance companies there. We used to do a lot of importations into Cameroon, Togo, Ghana, Congo – both the Kinshasa and Pointe-Noire, all those areas. So, you can see, it's not a new thing. It's a hobby I was doing before I became governor.
At 50 now sir, when you pray to God, what do you ask for?
Good health, oneness of Nigeria, prosperity to people of Nigeria and prosperity to all the families I know and those that I don't know.
Do you still pray for money?
Yes, I pray for prosperity. If I pray for prosperity, it's part of it.
We thought you are done with money?
No o (laughs)
What is your 50th birthday message to Nigerians?
Well, to be precise, I have no particular message for the people of Nigeria. The most important message is that Nigerian people – both old, new, young and people who are visiting Nigeria, is just for them to keep hope alive that Nigeria will become better. Hope should be alive. They should not kill the hope because it is in hope that we'll develop, it's in hope that we'll achieve, it's in hope that we'll be able to live. People that don't hope for tomorrow can't live. So, they should keep hope alive and Nigeria will be better.
Between politics and business, which one is more serious?
Both of them are serious. In fact politics is more serious than business because one plus one in politics is not two. But in the corporate boardroom, one plus one is two.
You grew a conglomerate from small business and you are everywhere, how did you do that and what is the secret of this continuity?
Well, it is trusting, trusting, trusting, and the good people, success of good people. When you have good people managing you, you'll look as if you don't do any work. But you do a lot of work because you are with them on the phone everytime. You are with them on the phone every second and every hour. So, those are the things we enjoy that can make a difference.
Jubril Aminu in his 70th birthday interview was wondering what you are doing in politics, that if you were not in politics, you would have been bigger than the Dangotes and the rest of them because he said he knew you very well when you started as a businessman, that he's surprised that politics has destroyed the business side. And yet in politics you have not gone far as far as he's concerned.
Well, Professor Aminu might be right but everything that glitters is not gold. I owe him a lot of explanations because when I wanted to go into politics, he was one of those who objected. And I am sure; he's still having that bias in his mind. But I'm happy. They might see me I have not grown in making money, but I have grown in stature and in experience. What I lost in business, I gained in politics. I am just giving you a scenario. So, I am very happy that I went into politics. Although companies and things we were doing suffered so much and all the rest of them.
And in my 25 years of business, to be honest with you, the greatest and the worst period I had was EFCC (Economic and Financial Crimes Commission) taking me to court because it killed every foreign bank that used to give me money. If it's not the kind of business you are doing, they would not be able to finance me. But I went and sat down with them, I asked some of them, I said throughout my being governor, how much money did I give to you? Those are things that convinced them. They were able to say yes, it is true.