House of Representatives takes over Kogi State House of Assembly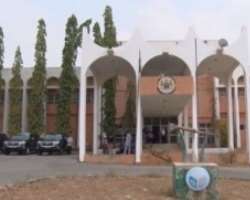 The House of Representatives on Wednesday  took over the legislative activities of the Kogi State House of Assembly in line with section 11(4) of the 1999 Constitution.
The action of the low legislative chamber followed the protracted crisis rocking the assembly.
In order to give effect to their order,  the House directed the Inspector General of Police, Solomon Arase to shut the Kogi state Assembly complex until further notice.
The House in plenary adopted the recommendations of the 10-member committee set up to investigate the alleged illegal removal of the Speaker of Kogi State of Assembly, which had advised the takeover.
According to the House, "In view of the fact that the Kogi State House of Assembly cannot perform its legislative functions due to the intractable crises and the volatile security situation in the state, the National Assembly should invoke the powers conferred on it by the Constitution of Nigeria to take over the legislative functions of the state House of Assembly pending the restoration of normalcy in the Assembly. The House, however, urged that "members of the Kogi State House of Assembly to quickly resolve any misunderstanding within members, and restore normalcy and quickly assume legislative functions to the National Assembly."
The report, which was overwhelmingly supported by all the members without any dissenting voice, also noted that "the Governor (Yahaya Bello) maintained that he has no hand in the crises rocking the State House of Assembly and that he had, severally reiterated his readiness to work harmoniously with the State House of Assembly."
However, the Speaker of the State House of Assembly, Umar Imam, is opposed to the development, describing the resolution of the House of Reps as lacing any binding force.
According to Umar, it is wrong for the lower chamber of the National Assembly to have taken over the functions of the assembly and sealed off its premises.
In his view, "Whatever they have said, whatever they have passed as resolution in the House of Representatives is not having any force on Kogi State house of assembly because the constitution is very clear about it, section 11 (4)(5) limits the areas where they can necessarily intervene, in this regards it doesn't call for it.