Exclusive: I Still Have Some Bullets in My Body: Ben Bruce Cobbler Explains Why He has not Delivered The Senator's Shoes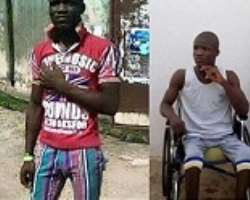 Late February, 2016, Senator Ben Bruce better known as the Common sense Senator and one who has been campaigning for the purchase of made in Nigeria products, surprised many when he ordered for 10 pairs of palm slippers from one physically challenged, Babatunde Lawal.
When Nollywoodgists.com visited traced the young cobbler to his residence, he confirmed that the Senator has actually paid for the sandals he ordered for but he was yet to deliver it to him as he was still working on it.
Tunde explained that the reason why the Senators shoe is taking him time to finish is because he cannot sit for long to work because he still has some bullets that is yet to be removed from his body which has been affecting his work production.
This is coming as a shock news to many and the Senator himself who does not know that Tunde was shot severally by armed robbers better known as 'One Chance,' in 2013.
Tunde explained that his ordeal started in 2013 when he was returning from work late at night as a petrol attendant because he closed late on that faithful day and on picking a bus home, he never knew that he was with the wrong set of people as they brought out gun and started beating him after which he was pushed out of the moving vehicle and shot at severally.
He revealed to Nollywoodgists.com that the incident happened late at night and he was left there in his own pool of blood till about 9a.m in the morning with many passing by and scared to help and the Police van that passed by promised to get an ambulance to help but never happened.
Narrating his ordeal, he said, "I was on my way back from work, as filling station attendant in 2013, I entered a bus not knowing that it was a one chance bus with some passengers, they brought out gun and started beating me and before I knew it, I was pushed down from the bus and was shot at severally. I was on the ground bleeding all over till the next morning at about 9 am until two Hausa men who came around to help. A Police van passed and promised to get an ambulance and the two Hausa men since they could not help left me there. It was someone who knew where I worked that was passing by that saw me and called my uncle and they came and rush me to the Igbobi General hospital and I was told to buy water bed which cost N75,000. The hospital treated me and they took out 10 bullets and left some behind. The bill was taken care of by the manager of filling station.
"The hospital stated that they were not able to remove all the bullets after they had removed 10 already with the fear that it might damage my spinal cord more because where the remaining bullets are located are very delicate. I still need to undergo another surgery to remove some of the bullets which are still left in my body since 2013 till date and I need Nigerians to help me because I can't sit for long even on the wheel chair and I do this shoes so I will not be begging on the streets."
Since his ordeal, Tunde has been struggling to survive by making shoes in his room where he also has a show glass and also does his cooking there. He complained that he sometimes finds it difficult to feed as he is sometimes left without a penny due to poor patronage.
He complained that as a Nigerian, he is also affected by the fuel scarcity as he has to keep begging people to help him get fuel so he can use it to run his business.