Re: I Can Fix Nigerian Economy In Three Months—Agu Ojukwu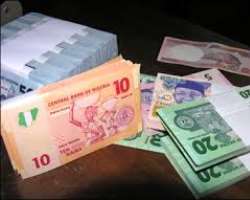 Have you ever wondered why people plead desperately when in trouble and cannot get help? You must have heard the expression 'burning one's bridges'. Yes, all these typify Agu Ojukwu. That is equally why his meals are highly irregular and his accommodation as reliable as that of a vagrant. Agu Ojukwu has been on interview sprees for some time now; having flattered Chuks Onuoha, the Sun's senior correspondent in Umuahia and so became the toast of the Sun group as he had declared support for OUK's senatorial bid.
It is good that Agu is little known in the Kalu camp and so taken into reckoning or is it the Persian saying that 'the enemy of my enemy is my friend' that is playing out and has made Agu the tonic and confidant of the Sun newspapers.
The Agu that I know is a loser, a drain pipe of an economist and a hot air blower of an exceptional magnitude. Quote me if you have any doubts for I associated with him and tried my best to salvage the irredeemable. Many see him as an academic drifter and everybody who has ever invested on Agu Ojukwu has lived to regret it.
Agu Ojukwu is a gifted talker and has misused his talents. We have regrettably learnt that he can succeed as a motivational speaker and not as an economist or an economic adviser.
On the present issue, Ojukwu had the gumption to present white lies to the interviewer on paragraph 3 of the daily Sun Monday, febuary 29th 2016. 'I served as chief economic adviser to the former Governor T. A. Orji between 2007 and 2011 but unfortunately, my principal, the Governor was not interested in going in the direction I was trying to take them. He was rather interested in pursuing other trivial issues,' said Agu. And we wonder why Agu didn't resign and waited to be booted out in 2011.
There is no doubt that Ojukwu is a glib liar and blackmailer if he could say this about a man who loved him like a brother, took him very seriously and appointed him the economic adviser, a strategic position in governance for 4 years which he utterly wasted like a gambler. There are two Agu Ojukwu personas, Agu the Adviser to the governor and Agu when broke. To tell you the level of confidence the former Gov. had on him, he was among the first five appointees as Ochendo took off to govern Abia.
Agu Ojukwu the smooth talker in the years preceding 2006 and subsequent years impressed Senator Orji as he did to many people with his hot airs just like he boasted and dropped names in the said interview. The unsuspecting Governor was eager to rebuild and advance the state, so he thought that he had gotten one of the best brains and hands but that was to be one of the greatest disappointments and a huge misfortune to T. A. Orji administration and Abia as a whole.
Senator Ojukwu, Agu's dad was one of the few Resident Officers during the civil war and was an impressive personality in his lifetime and Chief T A Orji thought that a replica of the elder statesman would be good for the saddle. How wrong he was.
Loquacious Agu was appointed Economic Adviser and he vaingloriously added the prefix of chief. His best moments were speaking engagements in eateries, beer parlours and other such places with lowly people he can dazzle with knowledge. I now see a lot of wisdom in the American system where they wouldn't take you seriously except if you have a driving license and a fixed address. Better if you own the house or pay regularly for the mortgage. I will come to that later.
Before and while Ojukwu was appointed, he incessantly chatted about economic donors and other international agencies. If he said ten things to you, nine would be boasts on his economic contacts among them, United Nations, European Union, IMF, ADB, DFID, Dr Okonjo Iwuala and others. He presented quantum memos to his Excellency, most of them on how to attract one loan or the other. That was the extent he could go. Somehow, he knew the Governor's excessive passion to develop the state to the effect that he was given leeway to travel to Abuja and Lagos for negotiations.
Through these largess and freebies, Agu became the most frequently travelled official. All these concessions and fringe benefits were granted to allow him unfettered operation. He got an approval to obtain funds from the Planning Commission to facilitate his bogus journeys if for any reason the Accountant General's office was clogged. Any in doubt should crosscheck with the permanent secretary in charge of the planning commission then. Between 2007 and 2009, Agu Ojukwu had the highest number of bills in the Accountant General's office just to enable him to deliver. Exceptionally was the unimpeded access to his Excellency's office. Could you believe that Agu had the advantage to visit the Governor's office 3 times a day?
After all these wasted efforts and many seeing that the governor's benevolence was abused, other aides started informing the Governor about Agu's excesses, but the Governor did not believe or regret his love for this lout. When his father died, Agu cried profusely as if he was the only son and the Governor realizing that his father had once served the state, approved a whopping sum of over five million naira. That amount was to cause a rift between Agu and his family. There are more stories which decency wouldn't permit on the pages of Newspapers.
Agu spent four years on churning out stories and I wish I had enough time; Agu's duplicity would make an interesting character in fictions. He couldn't organize any forum or any form of economic summit. In the said interview, he claimed about having ideas, contact and vision to turn around Nigerian economy in three months, [I can fix Nigerian Economy in three months]. Did he deliver any in Abia in four years? Till date, there is no academic work from Agu, neither a book nor even a pamphlet, not even a researched article published in the Sun or any other newspaper.
This is one who claims to turn around the economy of Nigeria in 3 months. In another publication by the same interviewer, Agu boasted of stopping PDP and rooting for OUk. That was the funniest because Agu is not a registered member of any political party and doesn't have a voter's card.
Agu has no fixed address, and as at now doesn't own a functional car or have a driving license, even when there was a car bequest on him by the Orji administration. For the four years as Adviser and till date, Agu operates from cheap hotels. Agu's antics are highest when he is broke as always. In 2014, the Governor full of pity still listened to his yarns when he spoke about bringing partners to develop oil palm. Another whopping approval was made, what he did with that went like the previous ones. He spends like a drug addict and wasteful as a gambler.
He featured in Alex Otti's campaigns and soon after jumped into OUK's without a rethink. Agu has not delivered and will never. Anyone who engages him has installed a giant waste pipe into his pocket. Agu is one of the misfortunes of Abia State and seriously needs deliverance. Agu is the second in a progressive family. Every other member, male and female are happily married but Agu is still drifting like a rudderless ship. He needs our prayers and pity.
Eddie Onuzuruike.
Disclaimer:

"The views/contents expressed in this article are the sole responsibility of the author(s) and do not necessarily reflect those of The Nigerian Voice. The Nigerian Voice will not be responsible or liable for any inaccurate or incorrect statements contained in this article."