Medtronic Africa & Parirenyatwa Hospital Successfully Bring Back Heart Surgery To Zimbabwe
First Open-Heart Surgery Since 2003 Successfully Takes Place....Program To Provide Relief For 400 Patients Awaiting Heart Surgery In Zimbabwe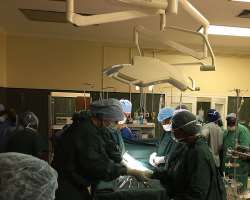 HARARE– March 07, 2016 – Building on its commitment to extend healthcare access in Sub Saharan Africa, Medtronic Africa announced a long-term partnership with Parirenyatwa Hospital to bring back cardiac surgery that has been absent in Zimbabwe since 2003.
Medtronic will supply critical equipment needed in cardiac surgery, as well as ongoing training and sourcing of expertise to assist in complex surgeries, to theParirenyatwaHospital, College of Health Science. In turn, this partnership brings relief for the 400 people on the waiting list for life-saving heart operations.
The equipment includes a heart-lung machine, which temporarily takes over the function of the heart and lungs during surgery,heater/cooler devicefor temperature control, anActivated Clotting Time (ACT) deviceto prevent blood clots, and anautoLog Autotransfusion (cell saver) System, which enables patients to receive transfusions with their own blood during surgical procedures.
Due to the country's economic challenges, heart surgery came to a halt in 2003, forcing patients to travel abroad for heart surgery. The privileged who could afford it, would travel abroad for treatment in other countries, but the vast majority of patients were unable to afford to do so.
"We lost at least half of the people who needed surgery during that time – all unnecessary deaths," said Dr. David Chimuka, Cardiothoracic and Vascular Surgeon at the ParirenyatwaHospital. His distress at the untenable situation led him to begin a search for a long-term loan of capital equipment.
"When I met with Medtronic, they realised that, more than just equipment, we needed a long-term solution that would be sustainable into the future. It was a complex challenge, but within 24 hours, they came back with its proposal," said Dr Chimuka. This involved the supply of the equipment on a long-term loan basis, totaling five years, during which Medtronic will service the equipment and transfer skills.
Working together with the Zimbabwean Government including the Ministry of Health and Child Welfare, various other stakeholders, and Parirenyatwa Hospital, Medtronic was given the mandate to run with its concept that would allow patients in Zimbabwe access to sustainable high quality cardiac surgery.
William Stranix, Sub-Saharan Africa Country Director for Medtronic, said: "At Medtronic, we believe that no one can solve the world's healthcare challenges alone. We work on collaborating to create strong partnerships like Parirenyatwa Hospital to ensure that we can provide quality healthcare to more people. We hope that this partnership can be mirrored in other organisations in South Africa and Sub-Saharan Africa to provide sustainable access to the underserved and improve patient outcomes. We aim to find new ways to create powerful solutions that drive clinical and economic value."
Ten children born with congenital heart disease will be the first to receive surgery to repair ventricular septal defects (a hole in the inner wall of the heart). As in the rest of the world, one in 100 children are born with congenital heart disease in Zimbabwe; and all-cause cardio-vascular disease has the second highest non-communicable disease mortality rate after cancer, with rheumatic heart disease, also treatable with surgery, topping the list of cardiac illnesses.
The first paediatric operation was successfully performed, and it is hoped that 150 surgeries on children and adults will be performed annually.
"We estimate that our cost of procedures will have come down significantly which is a dramatic saving for Zimbabweans," Dr. Chimuka pointed out, adding that the Zimbabwe Heart Foundation is being formed which will help to raise funds for indigent patients.
He concluded: "I thank Medtronic for the support they have given to us and I hope that they can also extend this help to other countries in sub-Saharan Africa. We are all in the same boat; we need the support of companies like Medtronic and also external NGOs who donate funds to acquire consumables."
Medtronic plc ( www.medtronic.com ), headquartered in Dublin, Ireland, is among the world's largest medical technology, services and solutions companies - alleviating pain, restoring health and extending life for millions of people around the world. Medtronic employs more than 85,000 people worldwide, serving physicians, hospitals and patients in more than 160 countries. The company is focused on collaborating with stakeholders around the world to take healthcare Further, Together.