Rob Kardashian Clears Things Up! Says His Still Dating Blac Chyna Are Still Together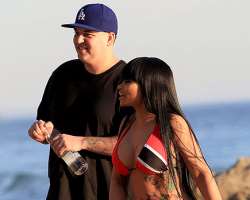 BEVERLY HILLS, March 08, (THEWILL) – Over the weekend, Rob Kardashian sparked breakup rumours by deleting all pictures of him and new girlfriend, Blac Chyna from his Instagram.
But he has come out to set the records straight saying they are still very much together but intend to keep their relationship off social media.
He wrote: "Chy and I are not broken up we just feel like it would be a lot healthier for our relationship if we kept a lot more to ourselves. It's impossible to have a positive relationship with so much negativity from the media and outsiders and we would appreciate it if everyone respects that -ChyRo  @blacchyna"