Nissan South Africa MD, Mike Whitfield emerges NAAMSA President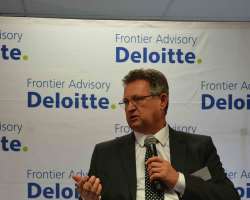 Nissan South Africa's Managing Director Mike Whitfield has been elected President of the National Association of Automobile Manufacturers of South Africa (NAAMSA) for 2016.
A 38-member association, NAAMSA is the umbrella body of new vehicle manufacturers, importers and distributors in South Africa. NAAMSA also compiles data on auto industry activity, most importantly monthly new car sales, which are considered a key economic indicator.
Whitfield brings a wealth of experience to his new role. As managing director of Nissan South Africa, he leads Nissan's Africa South regional business unit, which includes the key South African market, and countries in Sub Saharan Africa. He has gained a deep understanding of the South African motor industry during a 35-year career in various positions of increasing responsibility at Nissan.
'Mr Whitfield has a long association with our organisation and over that time has made great contribution to promote the interests of the auto industry in South Africa,' said NAAMSA director Nico Vermeulen.
NAAMSA works with key government, labour and industry stakeholders to ensure the sustainability of the local auto industry – an important driver of the economy.
'I'm honoured to be elected president and to play a lead role in helping the auto industry grow in South Africa,' said Whitfield, who is also a former NAAMSA vice-president.
The auto industry is the largest manufacturing sector in the South African economy. It contributed 7.2% to South Africa's GDP in 2014, thanks to the government's automotive production development programme (APDP).
The APDP's focus is on creating an internationally-competitive South African auto manufacturing hub by implementing policies that attract investment, future growth and development.
Supporting Whitfield in his year of office as NAAMSA's president are vice-presidents Jeff Nemeth (Ford Motor Company of Southern Africa) and Ray Levin (Kia Motors SA), who represent manufacturers and importers/distributors respectively, as well as immediate past President Johan van Zyl from Toyota SA.