We Can't Complete Okpanam Road Before The Rains, Says Okowa
… Asaba Airport To Be Shut Down Temporarily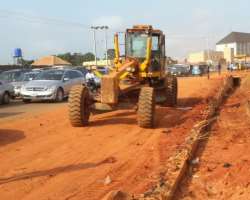 The ongoing Okpanam road project would not be completed before the rains sets in due to paucity of funds from the federal government to the state occasioned by the dwindling oil price at the international market, the Delta State governor, Senator (Dr) Ifeanyi Okowa has said.
The governor stated this recently while inspecting the ongoing runway project at the Asaba International Airport where he said, "Going to the Okpanam road, that is not a project we are expecting to complete before the rains".
Okowa also said the flooding situation in Okpanam would only be reduce, "we are looking towards a situation where there will be reduced flooding but we are not likely going to achieve the situation yet at the moment", he lamented.
The governor revealed that the ongoing runway at the airport would cause a temporary shutdown of the airport, "the runway was not in the best and the contractors are having issues of getting bitumen. Obviously, by the time they get to the middle section, we are expecting that the airport will be closed for sometimes within the period that there will be work in that section", lamenting that it was not easy funding projects at the moment.