Why An American Is Thanking Obasanjo Celebrating A Decade Of Emmanuel TV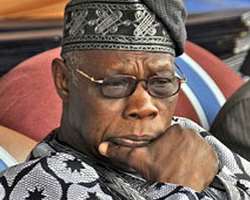 Firstly, I'd like to thank Nigeria's former President Olusegun Obasanjo. In 2004, he made a decision that has come to profoundly affect my life today. I would certainly have no reason whatsoever to even consider writing this, talk less discovering Nigeria's rich potentials, if not for that action. When he instructed Nigeria's National Broadcasting Corporation to controversially ban the showing of miracles on local programs, I'm sure he had no idea that what would birth as a result would place Nigeria enviably on the world map.
On Tuesday 8th March 2016, a striking milestone will be achieved in the history of Nigerian broadcasting. It's the 10thanniversary of a television station which boasts a reputation of being among the fastest growing and most viewed in the whole continent (albeit loved and loathed with perhaps equal ferocity).
I'm aware of the popularity of Nollywood films, and the following some Nigerian musicians have abroad – but this is on another level entirely, a scale that is perhaps immeasurable. Never before has content produced within the African giant had such a global impact in such an escalating manner. Trust me – I have done the research!
To give some context, let me provide some background data. I am an American working currently as a social media analyst in California, USA. My interest in and knowledge of Nigeria up to about one year ago was sparse to say the least. In USA, the picture painted of Nigeria generally involves some starving children in an archaic, beleaguered village, cutthroat Islamic militants chanting weird war-cries as they celebrate another merciless decapitation or the son of a 'crown prince' who has sent an email requesting 'help' to release the 100 'gazillion' dollars his great-granddad has stored up in a dodgy Swiss bank account. To put it bluntly, it's grim. Certainly not a colorful picture.
It was, therefore, an unusual surprise to me when, in August last year, I inadvertently stumbled across a video on YouTube showing a side of Nigeria I had NEVER seen. After watching a clip of the Supernatural TV series, a video with an alluring (and a little alarming!) thumbnail was 'suggested' to me showing an alleged 'miracle' of a blind lady in Mexico. One nonchalant, cynical click later and I was watching a crusade with a whopping 100,000 in attendance led by guess who - a Nigerian Pastor. I internally grimaced. Theatrics and theology should not be combined.
Now, I must confess at this point that although I am a professing Christian, I have a firmly founded disdain for most American televangelists – Benny Hinn and his ilk. The persistent emphasis on money, the lack of authenticity when it comes to the alleged miraculous and the emotional manipulation at play toward the disadvantaged in most of such services has left me highly skeptical.
Initially, the thing that struck me with this particular YouTube clip was the overwhelming makeup of the crowd – perhaps 99% Caucasian. It is customary to see non-African preachers minister to vast African crowds – but very rare to see vice versa. The 'miracle' that then happened seemed almost too good to be true. This bearded black pastor, simply clad in jeans and a shirt, basically tapped a woman on her head and she crumpled to the floor. Jumping up, the expression on her face was priceless. Pure, unadulterated joy! Speaking some ecstatic form of Spanish, she began to testify that her severely diminished sight had just been restored. The crowd roared, as did my attention. Could this be real? With interest sufficiently kindled, one video led to another… and to another… and to another. My preconceived stereotypes slowly began to fade as YouTube offered more and more weird yet wonderful clips from this channel called 'Emmanuel TV'. No wonder it had more than 300,000 subscribers and views in excess of 200 million!
There was something uncannily different about the pastor. In fact, unorthodox is an understatement. The freedom with which he ministered, the simplicity with which he taught, the remarkable results that followed… Well, seven months later and I can categorically, unashamedly call myself an Emmanuel TV addict. Pastor T.B. Joshua is a Nigerian I am not only proud to associate with but have profound admiration and respect for. He has been a significant source of 'rebranding' not just for his nation but for Pentecostal Christianity.
An array of factors has led me to this weighty conclusion but none so more than Pastor Joshua's refreshingly unique approach to Christianity. For example, in the countless thousands of hours of footage I have viewed, I have not heard a SINGLE solicitation for money. Not one time. No bank details scrolling across the screens or funding campaigns with multiple preachers using their charisma to try and coerce cash under the premise of prosperity. Contrarily, huge amounts are given to charitable projects which span continents and make tangible differences. Even in his huge Mexican crusade, I have it on reliable authority that not even an offering was taken by the pastor. That's practically sacrilegious over here.
Church here in USA usually comprises of some inspirational worship music, a motivational feel-good message and then, of course, a well-hyped offering to round up everything. One to two hours max. Sunday services shown live on Emmanuel TV, however, literally last the entire day. Yes, a whole day in church! Yet, they are so engaging and exciting, it feels almost timeless. The messages are practical, the reconciliations poignant, the prophecies pinpoint, the prayers powerful and the testimonies profound. T.B. Joshua remarkably combines a deep spiritual authority with a down-to-earth approach that is both endearing and eye-opening. When he speaks, it feels as if the message is directed entirely towards you. When he prays, the impact hits you right in the comfort of your own home. That's why I thank God for Obasanjo's miracle ban which, according to Wikipedia, paved the way for Emmanuel TV's arrival!
This is my first time of writing to an African news outlet. I don't know if anyone will deem this worthy of publication but please let it be known to all willing to hear – Nigeria has an incredible brand ambassador in T.B. Joshua. Use him. I join the millions around the world to celebrate Emmanuel TV as it hits a decade of existence! 'Changing Lives, Changing Nations, Changing The World' is more than just a motto; it's a vision which I consider myself privileged to be a part of.
I find it strange to consider that this milestone may well be celebrated far more abroad than in Nigeria. Well, to coin one of T.B. Joshua's catchphrases, "Distance is not a barrier…"
Helen Baker - Los Angeles, USA
NB - I have never been to Nigeria. When I wrote this, I asked a Nigerian friend I met on Facebook to send me some contact email addresses of some Nigerian newspapers/ online sites which are popular, so I hope I have sent this to the right email! If not, please redirect me accordingly to where I can send it. I strongly desire this message, however contentious it is, to be heard! Thanks.
Disclaimer:

"The views/contents expressed in this article are the sole responsibility of the author(s) and do not necessarily reflect those of The Nigerian Voice. The Nigerian Voice will not be responsible or liable for any inaccurate or incorrect statements contained in this article."