EFCC ARRESTS TWO FOR DIVERSION OF PMS IN KANO STATE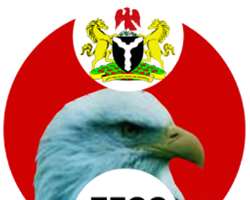 The Economic and Financial Crimes Commission EFCC, has arrested the duo of Musbahu Garba and Anas Abubakar for illegal diversion of petroleum product worth N 4,577,500 (four million, five hundred and seventy seven thousand, five hundred Naira Only.
The arrest was made by an Operative of the Commission who was on a routine surveillance of petrol stations in some parts of the this afternoon.
The Operative discovered that, a tanker belonging to Total Oil and Gas Company which was carrying Premium Moto Spirit (PMS) with registration No. AGL 837 XH was discharging a tanker fully loaded with 55,000 litres of PMS into a petrol dump of one Chalawa oil and Gas station located at Larabar Abasawa, a suburb in kano State.
Investigation into the case revealed that the driver of truck Anas whose statement was recorded under words of caution stated that he loaded the product from Lagos on 25th February, 2016 and got to Kano on 4th March, 2016 where he drove straight to the deport situated at Hotoro, Kano for inspection and dispatch of which instructions and waybill containing details of the consignment was given to him regarding the final destination of the product.
According to the manifest from the Department of Petroleum Resources (DPR) Kano State the product is expected to be delivered Giade Local Government Area, Bauchi State but was diverted to Chalawa oil and Gas Kano State.
The owner of the filling station, Musbahu who also had his written statement recorded said, he was contacted by one Ali who served as the middleman in this transaction, he added that after much discussion with Ali they agreed on N 140.00 per litre valued at N 7, 700,000.00 (seven million, seven hundred thousand Naira only) as against the approved pump price of N 86.50 totalling N 4,757,000.00 (four million, seven hundred fifty seven thousand Naira) per tanker.
He however gave Ali a deposit of N 1, 000,000.00 (one million Naira) cash and the balance of N 6,700,000.00(six million, Seven hundred thousand Naira) will be paid by Monday 7th March, 2016