BURNING OIL RIG SINKS INTO GULF, 11 STILL MISSING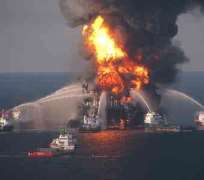 An oil platform that burned for more than day after a massive explosion sank into the Gulf of Mexico on Thursday, the United States Coast Guard said.
The Associated Press said crews searched by air and water for 11 workers still missing from the Deepwater Horizon, though one relative said family members have been told it's unlikely anyone survived Tuesday night's blast.
Supply vessels had been shooting water into the rig try to control the flames enough to keep it afloat, but couldn't, Coast Guard Petty Officer Katherine McNamara said.
Rescue crews have covered the 1,940-square-mile search area by air 12 times and by boat five times. The boats searched all night, hoping the missing workers might have been able to get to a covered lifeboat with supplies.
Carolyn Kemp of Monterey, La., said her grandson, Roy Wyatt Kemp, 27, was among the missing. She said he would have been on the drilling platform when it exploded.
'They're assuming all those men who were on the platform are dead,' Kemp said. 'That's the last we've heard.'
Other relatives waited anxiously for hourly updates. Family members of one missing worker, Shane Roshto of Amite, Miss., filed a lawsuit in New Orleans on Thursday accusing the rig's owner of negligence. The suit said he was thrown overboard by the explosion and is feared dead, though it did not indicate how family members knew that was what happened.
The suit names Transocean Ltd., which owns the rig, and oil giant BP, which contracted it. A Transocean spokesman did not immediately respond to a request for comment and BP wouldn't discuss the suit.
The family of Dewey Revette, a 48-year-old from southeast Mississippi, said he was also among the missing. He worked as a driller on the rig and had been with the company for 29 years.
'We're all just sitting around waiting for the phone to ring and hoping for good news. And praying about it,' said Revette's 23-year-old daughter, Andrea Cochran.
Transocean Ltd. spokesman Guy Cantwell said 111 workers who made it off the Deepwater Horizon safely after Tuesday night's blast were ashore Thursday, and four others were still on a boat that operates an underwater robot. A robot will eventually be used to stop the flow of oil or gas to the rig, cutting off the fire. He said officials have not decided when that will happen.
Seventeen others hurt in the blast had been brought to shore Wednesday with burns, broken legs and smoke inhalation. Four were critically injured.
A slow trek across the water brought most of the uninjured survivors to Port Fourchon, where they were checked by doctors before being brought to a hotel in suburban New Orleans to reunite with their relatives.
One worker said he was awakened by alarms and scrambled to get on a life boat.
'I've been working offshore 25 years and I've never seen anything like this before,' said the man, who like others at the hotel declined to give his name.
Stanley Murray of Monterey, La., was reunited with his son, Chad, an electrician aboard the rig who had ended his shift just before the explosion.
'If he had been there five minutes later, he would have been burned up,' Stanley Murray said.
The rig was doing exploratory drilling about 50 miles off the coast of Louisiana.
The rig is 400 feet by 250 feet, roughly twice the size of a football field, according to Transocean's website. A column of boiling black smoke rose hundreds of feet over the Gulf of Mexico. Officials said environmental damage appeared minimal so far.
Coast Guard Petty Officer Ashley Butler said crews were prepared for the platform to sink.
'There is equipment out there to help with the environment and the potential environmental impact,' Butler said.
Adrian Rose, vice president of Transocean, said the explosion appeared to be a blowout, in which natural gas or oil forces its way up a well pipe and smashes the equipment. But precisely what went wrong was under investigation.
A total of 126 workers were aboard. Seventy-nine were Transocean workers, six were BP employees and 41 were contracted.
The blast could be one of the nation's deadliest offshore drilling accidents of the past half-century.
One of the deadliest was in 1964, when a catamaran-type drilling barge operated by Pan American Petroleum Corp. near Eugene Island, about 80 miles off Louisiana, suffered a blowout and explosion while drilling a well. Twenty-one crew members died. The deadliest offshore drilling explosion was in 1988 about 120 miles off Aberdeen, Scotland, in which 167 men were killed.
Rose said the Deepwater Horizon crew had drilled the well to its final depth, more than 18,000 feet, and was cementing the steel casing at the time of the explosion.
'They did not have a lot of time to evacuate. This would have happened very rapidly,' he said.
According to Transocean's website, the rig was built in 2001 in South Korea and is designed to operate in water up to 8,000 feet deep, drill 5 1/2 miles down, and accommodate a crew of 130. It floats on pontoons and is moored to the sea floor by several large anchors.
Workers typically spend two weeks on the rig at a time, followed by two weeks off. Offshore oil workers typically earn $40,000 to $60,000 a year – more if they have special skills.
Working on offshore oil rigs is a dangerous job but has become safer in recent years thanks to improved training, safety systems and maintenance, said Joe Hurt, regional vice president for the International Association of Drilling Contractors.
Since 2001, there have been 69 offshore deaths, 1,349 injuries and 858 fires and explosions in the Gulf, according to the federal Minerals Management Service.