Nigerian War On Poverty: The American Experience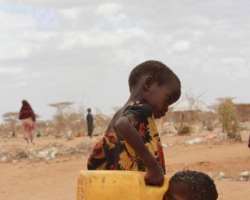 By 1930, both the rich and the poor, the strong and weak were in their millions pulled into a national depression. With consumers cutting their spending, so was the rug pulled out from under hundreds of thousands of small businesses, and by laying off millions of Americans, they sent them into the street as beggars, hungry and malnourished.
Rather than some social interventions to reduce the sufferings of millions of poor Americans, President Hebert Hoover did nothing believing that the market would eventually be self-recovered. In other words, the market would take care of the problem.
Unfortunately, with consumers and investors refusing to spend, the economy was further in shambles. By 1932, as high as 15 million workers were out of jobs, joining the bloated jobless and poverty ridden economy.
So, without any help coming from the government, tens of millions of Americans lacking social safety nets, turned into street begging. Here were citizens who not only lost their jobs but were forced to be lining up for daily meals government had no option but to provide.
Hopelessness deepened national pessimism. With such a tidal wave of popular sentiment to repudiate Hoover and the Republicans, Americans lined up in the presidential election to sweep Franklin Delano Roosevelt, New York's popular governor, who pledged a New Deal, a social contract with the American people to victory.
By providing jobs for millions of jobless Americans, jobs that were in most cases artificially created like employing people to go and clear the bushes, cut trees, and in some cases dig holes and refill the holes, millions of bread winners now earned little enough to put food on the table.
But the unbelievable magic wand quickly adopted by President Roosevelt, which he did in sincere sympathy with the poor—senior citizens, physically and mentally challenged, jobless and homeless families—were the social welfare programs.
From relief to recovery, soon the New Deal shifted to what was badly missing in the economy driven by the faceless and survival of the fittest capitalism, the radical transformation of capitalism into a socially inclusive system that provided social safety nets for the weaker, mentally and physically ill-equipped to compete in this dog eats dog social system. In expressing their endless gratitude, Americans reelected and reelected him from 1933 to 1945, when he died in office.
Since leaving more money in the hands of the rich and middle-class grows imports, exports jobs, and reinforces economic redundancy in a way that further excludes the poor masses of Nigeria, representing over 70 percent of the population, transferring major part of the country's wealth in the hands of the rich to the poor's hands has become inevitable in Nigeria's present economic and social circumstances.
It is now clear that at this juncture, there is the urgency that this government takes a radical departure from our present dog eats dog capitalism. If in his efforts to save capitalism Roosevelt came up with social welfare programs, then, considered a capitalist taboo, today, like Roosevelt's realization that there was no other better option, Buhari's only left option is to pursue some similar social welfare programs. Given our present circumstances, putting little money in the pockets of Nigeria's most vulnerable by paying our physically and mentally challenged men and women a token monthly stipend of N5000 has become nonnegotiable.
But to resolve the problem of economic redundancy, he realized that his government needed to spend billions of dollars on providing jobs to the poor, which he knew made more economic sense than simply handing everyone free money. In giving millions of unemployed Americans jobs, the government went as far as sending millions of jobless Americans into the forests to cut trees, clear bushes, and dig holes and close them.
That is why rather than handing out money to the poor in the form of social welfare, government should look for all avenues of creating jobs, including artificially creating some low paying jobs.
If government could put more money in the hands of the poor and economically excluded citizens, government should be increasing their purchasing power and creating more wealth and jobs, government is indirectly growing grassroots economic activities.
Buhari administration should find ways to reduce money in the hands of the rich through taxation and then channel the same into jobs programs designed to put more money in the hands of the poor masses of this country.
Besides this drastically reducing the high incidents of poverty in the country, which has been causing social dislocations and discontents, it will surprisingly put the economy on the growth path, particularly in agricultural production and food sufficiency.
Rather than handing some N5000 to unemployed Nigerians who are capable and ready to work, which without making them productive will hardly create wealth and grow the economy, I am suggesting that this government should look for unconventional avenues of creating jobs. But in the meantime, our compassionate president should follow the footsteps of another compassionate leader, America's President Roosevelt by handing our physically and mentally challenged compatriots N5000 monthly stipend.
Our president should, for the first time in the history of this country, wipe the tears off hundreds of thousands of our compatriots, whose misfortunes weren't their own making. Also with this singular act, our president should be removing millions of beggars off our streets.
If other nations have done this, then, we too can do it; there is no better time to do it than at a time like this, when our nation is at a crossroads. The good news is that this singular policy could be the magic wand we are yet to have explored.
Disclaimer:

"The views/contents expressed in this article are the sole responsibility of the author(s) and do not necessarily reflect those of The Nigerian Voice. The Nigerian Voice will not be responsible or liable for any inaccurate or incorrect statements contained in this article."